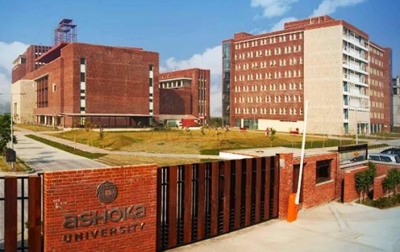 New Delhi, Sep 15 (IANS) Even as the scientific board of the Trivedi Centre for Political Data (TCPD) at the Ashoka University decided to dissolve itself on September 12 alleging that it was kept in the dark about major structural changes affecting the centre's leadership and functioning, 'The Edict', an independent newspaper brought out by the students since 2014, has learnt that it was a 'slow, months long draining of the centre's resources that left the institution as a shell of what it once was'.
A fresh news report in the The Edict said, "On September 12, the scientific board of TCPD — Ashoka University's award-winning, internationally-recognised platform for political research and data — decided to dissolve itself after alleging it was kept in the dark about major structural changes affecting the centre's leadership and functioning. This is the latest in what The Edict has learnt to be a slow, months long draining of the centre's resources, leaving the institution as a shell of what it once was."
It said that the TCPD is one of the most robust political data centres in the country and a popular resource for journalists covering elections in national and regional media.
In June this year, TCPD's 'Lok Dhaba' dataset, which is an open and free repository of Indian election results since 1962, won the Lipsett/Przeworski/Verba Dataset Award given by the American Political Science Association, considered to be the "profession's highest recognition for public data contributions", according to an open letter recently released by the scientific board of TCPD.
The news report said that "but just three months later, the TCPD's existence hangs in suspension amid the dissolution of its scientific board and former director Gilles Verniers resigning from the University".
"The University administration has said it plans to merge the TCPD's data with another larger data centre, but it has not shared any details, either publicly or in communication with TCPD employees, on how the centre will be represented, or how it will function within this larger set up," it said.
It also said that while the University had plans to merge TCPD into a new centre by July, it informed the scientific board only in September.
What was once a leading institution on campus, with more than 50 staff and interns working in it, the TCPD shrunk to just a handful of employees earlier this year. Today, no one works at the Centre, which has seen a quiet exodus of staff since at least May 2023, it said.
Talking about TCPD, it said the centre was set up in 2016 and was co-directed by former assistant professor of political science, Gilles Verniers, and visiting professor of computer science, Sudheendra Hangal, to understand Indian political and governmental processes better through data and enable a data-driven discourse.
"After Hangal stepped down around two years ago, Verniers had been directing it alone," it said.
"We do not know how these joint ventures will be pursued," the scientific board told The Edict over email, because it has "no details" of this new centre, the report claimed.
It said, "In 2021, TCPD had a team of 11 permanent staff members and 25 affiliated researchers with three Fulbright Fellows joining the team from the USA. That year, about 40 interns worked with the centre. Now, there is no one."
"In its seven years of operation, scholars at TCPD have produced 16 groundbreaking datasets, led 20 research projects, organised 80 research seminars, published 20 research papers and book chapters, and organised two major conferences on computational social sciences.
"The team has also published more than 300 analytical articles in the Indian press," according to the open letter released by the scientific board.
But in recent months, at least five TCPD employees (below the rank of faculty) have been looking for new jobs, are working elsewhere already, or are pursuing higher education, according to their Linkedin profiles, it claimed.
It also said that more unusually, TCPD did not open applications for its summer internship programme this year. The last monthly newsletter was sent out in May 2023.
Additionally, no further datasets have been released since the urban local body elections in Delhi in June 2023.
The news report claimed that a source at TCPD, who wishes to remain anonymous, had told The Edict that there were murmurs of the TCPD undergoing major structural changes as early as April.
"To the best of my abilities, I can tell you that TCPD will continue in some shape or form. We don't know what that shape or form is right now," the source had told The Edict in April, when asked whether TCPD is at the risk of being shut down or discontinued.
The report further claimed that S.Y. Quraishi, former Chief Election Commissioner of India (2010 to 2012), who was a distinguished fellow at the centre, said he did not receive an email renewing his position this year, which he used to every July.
"We used to hold meetings every week to review progress on our projects and the work of all other employees. But the last meeting was held a month or a month-and-a-half back," Quraishi told The Edict in August, it claimed.
Verniers told The Edict that he had resigned from Ashoka and therefore from the directorship of TCPD effective September 5.
Meanwhile, in a statement issued recently, Ashoka University said Verniers did not clear the "stringent tenure process" and that "faculty who do not qualify for tenure exit the University within three semesters".
"To the best of our understanding, he was not put up for tenure or offered an alternative role. When this happens, it is impossible for an academic to stay in an institution," the scientific board told The Edict when asked about Verniers' departure.
The scientific board claims in its open letter that Verniers was "forced to leave".
In multiple meetings requested by the scientific board with the former Vice-Chancellor, these plans were not communicated, The Edict has learnt, the report said.
The news report by The Edict also claimed that at the end of 2021, it was reported that the University plans to set up a new data centre to "deepdive into data analytics and focus on research across categories such as food and nutrition, health, epidemiology, malnutrition, sustainability and climate change".
Funds had already been sanctioned and a launch was expected soon.
Somak Raychaudhary, the Vice-Chancellor of the University, had announced at this year's convocation that the Centre for Data Science and Analytics (CDSA) is one of the several new centres in the pipeline to be launched this year.
The CDSA aims to provide data services for all data-centric activities at the University, build capacity for data science, engage in and facilitate collaborative research and mobilise revenue for growth, according to a presentation made in July by Partha Pratim Das, visiting professor, who will be leading the centre.
It will be a part of the Ashoka School of Advanced Computing (ASAC) along with the computer science department and two other centres with focused research themes.
"We intend to provide a whole lot of different data services by which different department schools of Ashoka can get facilitated," Das had said.
The presentation mentioned datasets from TCPD, CEDA (Centre for Economic Data and Analysis), TSB (Trivedi School of Biosciences), 3CS (Centre for Climate Change and Sustainability) and others.
"TCPD will slowly become a part of the data science centre. That transition process is going on," Das had said in the presentation.
He was responding to The Edict's question on political data in a webinar about the TCPD.
Making such "substantial changes" governing "how the centre is run and situated within its home institution" is a "breach of academic norms", the scientific board said in its open letter.
The data from the Centre for Economic Data and Analysis (CEDA) will also be hosted at CDSA. But CEDA seems to be in a different situation than TCPD right now. It has recently hired a new director, Abhay Gupta, who is also part of the team building the CDSA, the news report said.
No one from TCPD, however, is represented in the CDSA's leadership.
"What kind of integration will they do? Is it some historical data? We used to send our people to states where elections were held. Has history stopped? Have elections stopped? Has democracy stopped," asked Quraishi about the merger on a call with The Edict.