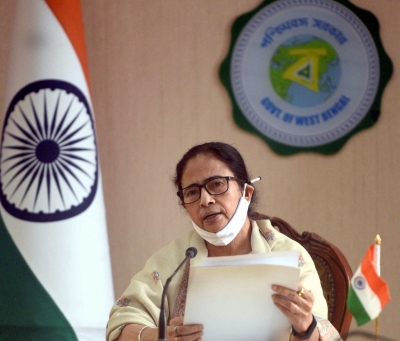 Mamata Banerjee's government appointed 6th pay Commission for its employees, and implemented its decisions from January 2020. It rejoiced the decision as a good one for the employees, and decided to ignore payment of due DA to them. The state government thought there can be different DA rate for Bengal, despite full knowledge of the fact that DA, Dearness Allowance, is compensation for inflation.
The cumulative amount of DA to be paid to the state government employees has now reached a staggering figure of 25,000 crore, and Calcutta High Court has dictated the state to pay it immediately. Curiously, the state took the plea that no DA is due according to its formula, but the High Court has summarily rejected the argument.
Well, in reality it is impossible for the state to implement the verdict. The state government has decided to move the Supreme Court against it, but sources within the government are not very optimistic about the outcome.
In fact, the state government has over the years tried to hide the fact that the state's economy is in dire strait. Mamata Banerjee's government used to criticize the erstwhile Left Front government for the loan burden of the state, but in its 11 years, it has increased the loan burden threefold. Presenting her maiden Budget, state's Finance Minister Chandrima Bhattacharya pegged the estimated outstanding debt of the government on March 2023 at INR 5,86,438.05 crore.
With so much debt burden, the state government needs to be financially responsible. But most of its social pending that has been lauded so much are not targeted. Take for example Banerjee's decision to pay all the puja committees INR 60,000/- this year. Some of the puja organizers in Kolkata have a 5 crore plus budget, and a lot many all over Bengal 50 lakh plus. The dole will cost state exchequer INR 250 Crore.
This is how Bengal government squanders away taxpayers' hard earned money. Almost all its programmes are advantaged of by those who do not need any dole at all. Of late, news have come that the state government have identified who should be the beneficiary of its INR 500 per month to the needy women. However it is doubtful whether anyone will be deprived of this money, be they middle class or upper middle class.
This is a deliberate attempt to woo all the voters. Bengal has become a poor state, and a very large number of its young population does not expect to get any job having a salary of more than 10,000 a month. The latest scam plaguing the Bengal government reveals that young men and women have paid bribe amounting to 10 to 15 lakhs for school jobs that would fetch them about INR 25,000 per month.
While this is a sordid tale of Bengal's plight, it also explains why Mamata Banerjee does not make her programmes targeted. But the question is whether it is sustainable.
As far as public debt is concerned Bengal stands out as one of the four worst performers.. The debt to SGDP (state gross domestic product) ratio for the states of Bihar, Rajasthan and Bengal are respectively 31.95%, 30.89% and 30.66%. Only Punjab (45.26 %) is a worse state in this regard. All other states are in a better position.
Strikingly, Odisha has it at 11.88 percent, and the government run by Naveen Pattanaik is so popular that the Chief Minister is continuing to be in helm since 2000. The state has lowest debt/SGDP ratio, and there is no corruption charge against him. This is how long term plan benefits a state, which has recently been identified by the industrialist as a highly attractive destination for investment.
In contrast, Bengal's financial profligacy, lack of industrial development, and charges of widespread corruption is closing the door for industrialization in near future. It has reduced its Debt/SGDP ration over last few years, but has still a long way to go.
Under the circumstances, if the Supreme Court upholds Calcutta High Court's verdict on DA, West Bengal government will be in a dire strait. Even if it pledges to give the due DA over five years in five installments, it has to shed 5,000 crores a year. It will then have to stop all its social programmes, and as it has not tried to implement any long term plan for economic development over last one decade, the future of the state will turn bleak.
-INDIA NEWS STREAM