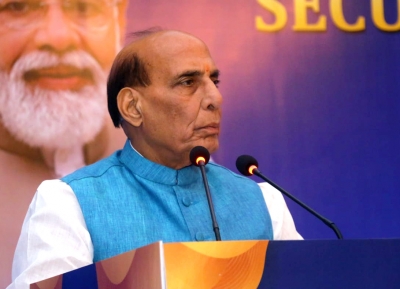 New Delhi: Defence Minister Rajnath Singh on Sunday approved fourth Positive Indigenisation List (PIL) of 928 strategically-important Line Replacement Units (LRUs), Sub-systems, Spares and Components.
This approval includes high-end materials and spares, with import substitution value worth Rs 715 crore.
According to the Ministry of Defence, these initiatives have been taken to promote 'Aatmanirbharta' in the defence sector and minimise the imports by Defence Public Sector Undertakings (DPSUs). These will only be procured from the Indian industry, the official added.
On Sunday, the ministry said that this fourth list is in continuation to the previous three PILs involving LRUs or Sub-systems, Assemblies, Sub-assemblies, Spares and Components which were published in December 2021, March 2022 and August 2022 respectively. These lists contain 2,500 items which are already indigenised and 1,238 items which will be indigenised within the given timelines. Of 1,238, 310 items have been indigenised so far.
The DPSUs will undertake indigenisation of these items through different routes under 'Make' category and in-house development through the capabilities of MSMEs and private Indian industry, thereby providing impetus to the growth in economy, enhanced investment in defence and reduction in import dependence of DPSUs. In addition, this will augment the design capabilities of the domestic defence industry by involving academia and research institutions.
The DPSUs will soon initiate procurement action for these notified items. The industry may look for Expression of Interest (EoIs) or Request for Proposal (RFPs) on the Srijan Portal Dashboard especially designed for this purpose and may come forward to participate in large number. The details of the items have been made available on SRIJAN Portal (srijandefence.gov.in), officials said.
IANS