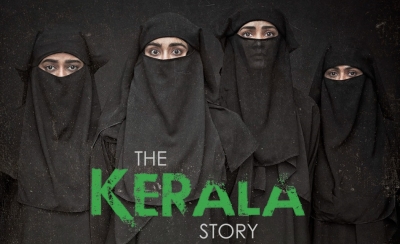 Thiruvananthapuram: Amid the raging controversy over the upcoming film 'The Kerala Story', the producers of the film on Tuesday changed the text of the introduction to the film in its latest teasers on YouTube.
Earlier, the text mentioned that around 32,000 women have gone missing from Kerala. Now the changed version says that three women, who after getting brainwashed, converted and were sent on terror missions in India and abroad.
The film starring Adah Sharma, slated to release on May 5 created a major controversy when it claimed that 32,000 women have left the state.
As soon as the teaser of the film was released, the ruling CPI(M)-led Left and the UDF demanded that the film should not be screened.
Leader of Opposition V.D. Satheesan said their stand has been clear and in the name of expression of freedom, they will not allow anyone to spread canards and it will be appropriately dealt with and they have already asked for a ban of the film.
A petition was filed before the Kerala High Court on Tuesday seeking a ban on the screening of the film.
Certain outfits announced cash prizes to prove the claim. The Kerala State Committee of Muslim Youth League announced a reward of Rs 1 crore for the individual who proves the "allegations" levelled in the movie. A right-wing activist and founder of the Hindu Seva Kendra Pratheesh Viswanath also offered Rs 10 crore to prove the opposite — that no one from Kerala has gone to Syria to join IS.
The film is directed by Sudipto Sen. It traces the journey of four female college students in Kerala who become part of Islamic State.
The film also stars Yogita Bihani, Siddhi Idnani, and Sonia Balani. It is produced by Vipul Amrutlal Shah.
IANS