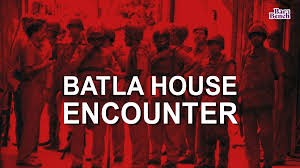 For representational purpose. (File photo)
Batla House convict Shehzad Ahmed, died on Saturday at New Delhi's AIIMS hospital during pancreatitis treatment.
Officials said, "The convict was admitted to GTB hospital on December 8, 2022, for diagnosis of gallbladder stone-induced acute necrotizing pancreatitis with modified CTSI and referred to Safdarjung hospital on December 27." Thereafter, he was referred to the hospital on January 11. On Saturday, the authorities informed that Ahmed has died at AIIMS hospital at 7.42 am, the officials added.
The Muslim man was convicted in the 2008 Batla House encounter case for murdering Inspector Mohan Chand Sharma and assaulting other officers.
The Batla House encounter refers to a gunfight between Delhi Police Special Cell personnel and nearly half a dozen Muslim men, many in their early 20s, at Delhi's Jamia Nagar area. A police man also died in the incident which happened on September 19, 2008.
A team led by Delhi Police Inspector Mohan Chand Sharma raided a flat numbered L-18 in Batla House in Jamia Nagar. The raid came days after bomb blasts in Delhi that killed 39 and injured 159. There were five terrorists in the house who opened fire at the police personnel.
In the encounter, Sharma and two terrorists —Mohd Atif Ameen and Mohd Sajid— were killed. One terrorist —Mohd Saif— was arrested and two others —Shahzad Ahmad and Ariz Khan— managed to escape. Shahzad was captured later and tried and convicted.
The infamous encounter raised widespread suspension on the police theory with a host of political parties as well as human rights bodies demanding fair probe in the whole incient. The investigators found him the member of Indian Mujahideen, a contention which was contested by host of Muslim-managed organizations as well as civil rights bodies with many calling it 'creation of Intelligence Bureau".
Shehzad was resident of Azamgarh in Uttar Pradesh. He was 33. He was admitted in Tihar Jail on February 6, 2010. He was transferred to central jail number 15 in Mandoli on July 7, 2022, from central jail number 8/9 in Tihar, said officials to PTI.
-INDIA NEWS STREAM