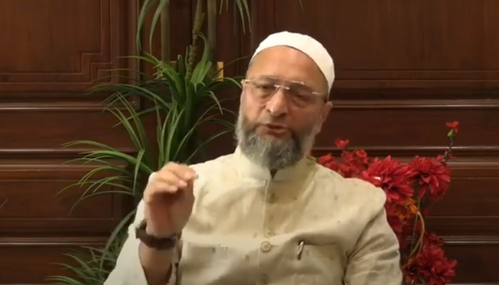 Hyderabad: Reacting strongly to Telangana Congress president A. Revanth Reddy's remark that Owaisi family came from Maharashtra, MIM president and Hyderabad MP Asaduddin Owaisi said Reddy was speaking the language of RSS.
Owaisi said that the Telangana Congress chief was speaking like RSS leaders who always say Muslims and Islam came to India from outside.
The Hyderabad MP launched a counter attack on Revanth Reddy while addressing a public meeting in the old city on Thursday night. "We have not come from Maharashtra. We are children of Adam. Entire India is ours. Where have you come from," Owaisi asked.
Stating that Revanth Reddy's remarks make no difference to him, Majlis-e-Ittehadul Muslimee (MIM) president said the Congress leader has shown his hatred towards Muslims. Owaisi said as a youth Revanth Reddy was with the ABVP and from there he went to RSS and BJP.
He claimed that on the direction of RSS, he joined TDP. He alleged that in 1999 Revanth Reddy worked with BJP's Kishan Reddy against MIM in Karwan constituency.
He slammed the Congress party for taking into its fold leaders like Revanth Reddy who speak the language of RSS.
Meanwhile, Asaduddin Owaisi's brother and MIM floor leader in Telangana assembly Akbaruddin Owaisi also launched an attack on Revanth Reddy for his links with RSS.
He challenged the Congress leader to take an oath at Bhagyalakshmi temple to deny his RSS links. Akbaruddin Owaisi also asked Congress leader Rahul Gandhi as to where his mother was born. "You are telling me I came from Maharashtra, I am asking where you came from," he said.
Reacting to Rahul Gandhi's allegation that MIM is B team of BJP, the MIM leader asked him why his party made a RSS man as its president in Telangana.
IANS