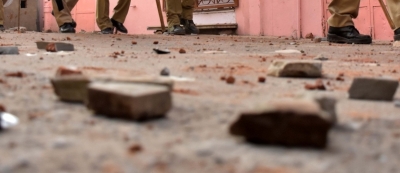 Shivamogga: Karnataka Police extended curfew to the entire city of Shivamogga on Monday following the escalation of tension. The IPC 144 prohibitory orders were clamped in Ragi Gudda area of the city on Sunday after violence broke out during the Eid Milad procession.
The situation continues to be sensitive all across the city. The security arrangement had been tightened at sensitive points. The shops were asked to close down.
The police have taken complaints from the victims whose properties were damaged in the stone pelting and violence. The police have also taken more than 25 persons into their custody. The CCTV footages are being collected to identify miscreants.
Sources explain that during the Eid Milad procession, miscreants barged into the residential locality of Hindus and pelted stones on houses leading to violence. They also pelted stones on the police. However, the police were able to control the situation and prevented any major untoward incident.
BJP MLA from Shivamogga, Channabasappa visited the injured at the hospital and urged action against miscreants who indulged in violence. He also paid a visit to the houses of victims targeted by miscreants. As the situation continues to be volatile, IGP East Zone, Tyagarajan had rushed to the spot. Deputy Commissioner R. Selvamani has also taken report of the prevailing situation.
Tension prevailed in the city of Shivamogga in Karnataka on Sunday after a stone pelting incident took place during the Eid Milad procession in the city.
Following the stone pelting incident, the authorities had imposed prohibitory orders in some parts of the city under IPC Section 144.
The stone pelting incident occurred in Ragigudda area near Shantinagar in the city, however, the Rapid Action Force (RAF) rushed to the spot and quelled the mob.
The police resorted to mild lathi charge to bring the situation under control. The police said that they also rescued seven persons, who were stuck between the stone pelters and security personnel.
The controversy started after the members of Muslim community questioned the police for erasing the objectionable writing on cut-out of Tippu Sultan. Superintendent of Police (SP), Mithun Kumar held talks with the community leaders and was convinced about the objectionable writing on the cut-out of Tipu Sultan.
Shivamogga is a communally sensitive city and the police have been on high alert for last 15 days in the backdrop of Ganesh Chaturthi festival and Eid Milad.
At least 12 platoons of District Armed Reserve (DAR), two platoons of Rapid Action Force (RAF), two platoons of Karnataka State Reserve Police (KSRP) and 2,500 police are deputed across the city to thwart any untoward incident.
The murder of Bajrang Dal activist — Harsha — which made national news had taken place in Shivamogga city in February 2022. The city had also witnessed a series of stabbing incidents over the erection of banners and posters of BJP's freedom fighter Veer Savarkar.
IANS