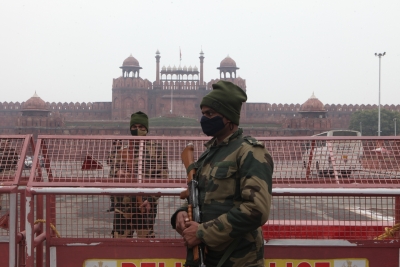 New Delhi: As the nation is celebrating the 74th Republic Day on Thursday, security has been tightened across Delhi-NCR to avoid any untoward incidents.
The Delhi Police have deployed extra security personnel on every border of the capital city.
Additional barricades have also been put across Delhi and the police are conducting through checking of every vehicle entering the city.
Snifer dogs have also been put into service along with the use of metal detectors.
Security sources have claimed that around 300 companies including private and government entities are being used to keep the national capital safe.
"Around 6,000 security personnel have been deployed across the capital. We have created multi-layer security checks. A 24/7 help desk have been specially created at Kartavya Path. Anti-sabotage checks and patrolling have been increased all over the capital," said a senior police official.
Delhi Police are not letting anyone enter the high-security Lutyens area without a proper pass for Republic Day.
Apart from CCTVs, the police is also taking help of facial recognition system to keep an eye on possible suspects.
An anti-drone team of NSG DRDO has also been deployed in Lutyens Delhi.
Hotels in the city have been asked not to let anyone book a room without proper identification documents.
The Delhi Police recently conducted a tenants drive to check whether any suspicious persons are living in the capital.
A police team is also keeping an eye on social media and they have warned that strict action will be taken for spreading any sort of rumors that can lead to a law and order situation.
IANS