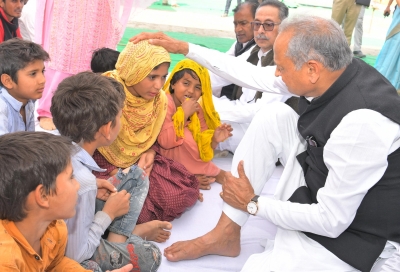 Bharatpur/Jaipur: Rajasthan Chief Minister Ashok Gehlot reached Ghatmika in Bharatpur on Thursday and met the families of Junaid and Nasir, who were charred to death in Haryana.
Gehlot also met the children of deceased Junaid. He said that this incident of kidnapping and brutal murder is unfortunate. One accused has been arrested by the police. The Rajasthan police is continuously working to ensure justice for the victims' families. The relatives thanked the Chief Minister for the police action and demanded early justice in the matter.
The Chief Minister said that from a humanitarian point of view, financial assistance of Rs 5 lakh each would be given to the wives of the deceased Nasir and Junaid and their children. Along with this, the government will also ensure that proper education is available to these children. He said that all necessary steps would be taken by the state government to provide support to the victims' families.
He said that the Haryana government should show more seriousness in the investigation of this matter. After talking to Haryana Chief Minister Manohar Lal Khattar, efforts are being made to arrest the rest of the accused and to provide justice to the victims' families at the earliest. For this, continuous talks are being held at the DGP level in both the states.
Gehlot said that to ensure justice to the victims' families, this heart-rending incident would be investigated under the Case Officer Scheme. By appointing a legal officer under the scheme, right from arresting the accused to presenting challans and the rest of the legal process can be completed in a time-bound manner and its effective monitoring can be done.
He said that the case was taken forward by the police registering a quick FIR.
Minister of State for Education Zahida Khan has provided Rs 5 lakh each to the victims' families and Rs 50,000 each has been given by the Panchayat Samiti Pahadi. Along with this, Rs 1.25 lakh per family will be provided as interim assistance under the Victim Compensation Scheme, whose approval has been issued. Other benefits will also be given to both the families by linking them to various public welfare schemes.