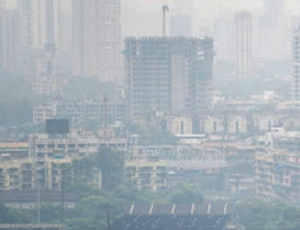 Mumbai, Nov 9 (IANS) Concerned over the poor Air Quality Index (AQI) in Mumbai and other parts of the state, Maharashtra Chief Minister Eknath Shinde on Thursday ordered 1,000 tankers to spray water on all city roads to curb dust pollution in the country's commercial capital, while considering the feasibility of artificial rain through cloud seeding.
Addressing a special meeting to combat air pollution, Shinde said that water should be sprayed to prevent the spread of dust through the ongoing construction sites or public and private developmental projects all over Mumbai.
He called for deploying special teams to clean the accumulated dust, and serve notices to all construction sites in Mumbai and the Mumbai Metropolitan Region (MMR) to make their vicinity dust-free.
Shinde has directed that all construction sites must employ anti-smog guns, sprinklers and metal sheets to cover the ongoing work to prevent the dust spilling outside plus ensure that the people especially pedestrians are not inconvenienced by the metal sheets.
The CM called upon the officials to make the fight against pollution a people's movement with their participation in different campaigns to make their localities pollution-free.
Shinde said all cities and civic bodies must strictly adhere to the recent Bombay High Court guidelines on controlling pollution, and the Transport Department must crack down on vehicles that do not cover the dirt-debris load while transporting them to and from sites.
Stressing to increase the green cover, the CM urged all major cities in the state to increase the urban forest through the Miyawaki technique, plant more trees around open spaces and grounds, and use sprinklers to reduce airborne dust particles.
Here, Shinde urged the BMC to examine and explore a cloud-seeding experiment to create artificial rain that can reduce air pollution in Mumbai.
Last week, the BMC had announced plans to wash all major roads running around 600 km in the city with recycled water as part of its slew of initiatives to clean the Mumbai air.
The concerned authorities and civic bodies will also submit a weekly review of pollution control measures.