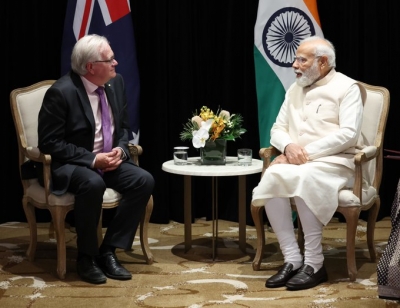 New Delhi: Prime Minister Narendra Modi on Tuesday met several prominent Australian personalities, including Nobel Laureate Dr. Brian Paul Schmidt in separate meetings in Sydney.
Modi in a series of tweets, said, "Had an excellent conversation on science and innovation with Nobel Laureate Dr. Brian Paul Schmidt. His work on these subjects has been rich and shaped academic discourse greatly."
The Prime Minister's Office (PMO) in a tweet, said, "Professor Brian P Schmidt of Australian National University met PM Narendra Modi in Sydney. He praised India's strides in research and science. He says India's ability to do world-class science has become an order of magnitude higher."
The Prime Minister also met leading Australian singer Guy Sebastian and said, "Guy Sebastian is a remarkable singer and has unparalleled passion towards music. In addition, he is passionate about social service as well. I was glad to have interacted with him today."
Commenting on the meeting of PM Modi with the leading Australian singer, the PMO said that they discussed music, culture and more.
Modi also shared the details of his meeting with Professor Toby Walsh, chief scientist, Artificial Intelligence Institute, University of New South Wales, Sydney.
He said, "Had a fascinating discussion on different frontiers of AI and futuristic technology with Toby Walsh. One can clearly see his passion towards AI and the need to ensure it is harnessed for human progress," Modi said in a tweet, attaching the picture of the meeting.
PMO said that Modi and Walsh discussed AI, India's digital payments system UPI and the country's growing innovation ecosystem.
The Prime Minister also met Mark Balla, business specialist and accomplished public speaker on humanitarian issues and said, "Mark Balla has done commendable work on a topic I am very passionate about – access to sanitation. People know him as a 'Toilet Warrior'. Was wonderful interacting with him earlier today."
He also met Danielle Mate Sullivan, aboriginal artist; Sarah Todd, international chef, restaurateur, TV host, speaker and entrepreneur; Associate Professor Salvatore Babones, sociologist, researcher and author.
The Prime Minister congratulated them on their achievements and encouraged them to contribute to strengthen the India-Australia relationship.
Meanwhile, the PMO said that there was immense enthusiasm in Sydney for the community programme.
People were seen performing on Garba and Dandiya tunes at the community programme in Sydney.
There was huge enthusiasm amongst the Indian diaspora ahead of PM Modi's arrival at the Qudos Bank Arena in Sydney for the community event.
As part of his final leg of the three-nation tour, Modi arrived in Sydney on Monday night as a guest of the Australian government.
Modi is slated to hold talks with his Australian counterpart Anthony Albanese and also address the country's eight lakh-plus strong, dynamic and diverse Indian diaspora.
In 2014, Modi became the first Indian Prime Minister to visit Australia after Rajiv Gandhi, where he addressed 20,000 people at the Sydney SuperDome at Olympic Park and said that in coming years, more Indian leaders will be visiting Down Under.
IANS