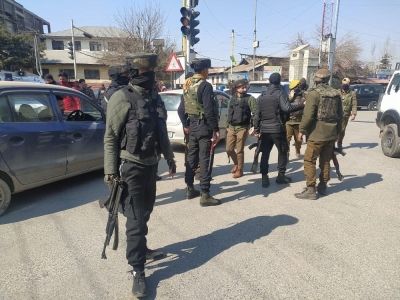 The police in Jammu and Kashmir detained dozens of Muslims who were allegedly attempting to hold a Muharram procession in Srinagar to, what the authorities say, maintain law and order.
As per reports, the authorities on Sunday imposed curfew-like restrictions in parts of Srinagar to prevent members of the Shia community from taking out Muharram processions. The restrictions include a ban on the Shia religious procession.
Senior Superintendent of Police (SSP), Srinagar, Rakesh Balwal, said restrictions on the movement and assembly of people were imposed in eight police station areas of the Srinagar city to maintain law and order. Sunday's procession marked the eighth day of Muharram, two days before its peak on the day of Ashura.
Officials said security forces personnel were deployed in strength to prevent any untoward incident.
In the recent past, incidents of violence during the Muharram event were reported from Jammu and Kashmir, leading authorities to take precautionary measures. Notably, in 2020, dozens were injured after forces allegedly fired shotgun pellets and tear gas to disperse the procession.
According to a PTI report, district authorities decided that traditional processions related to Muharram on Guru Bazar towards Buchwara and Abi Guzar towards Zadibal routes respectively will not be allowed keeping in view public security and law and order, the officials said.
Muslims in the erstwhile state often complain that the government imposes curbs on their religious festivals on the pretext of maintaining law.
Muharram is among the holiest months for Muslims across the world. As part of the event to observe the martyrdom of Imam Hussain, grandson of Prophet Muhammad (PBUH), the Muslims across the world take out procession, beating chests and reciting elegies. While Shia Muslims give utmost sanctity to the month, Sunni Muslims also observe the martyrdom with full piety. Notably, Imam Hussain and his 72 companions, mostly family members, were mercilessly killed in the battle of Karbala in present-day Iraq. – INDIA NEWS STREAM