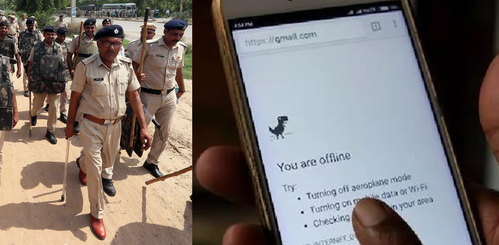 Gurugram: The Haryana government has suspended mobile Internet and SMS services in Nuh district, as well as imposed Section 144 for two days starting from Friday.
The prohibitory measure were implemented due to apprehensions of tension, annoyance, agitation, damage to public and private property and disturbance of public peace and tranquility in the district.
An order from the state government read: "Mobile internet, and SMS services in Nuh will be suspended from September 15 to 16. This order will be implemented to prevent any disturbance of peace and public order in the jurisdiction of district Nuh."
Officials said that there was a clear potential for disruption of public utilities, damage to public assets and amenities and disturbance of public law and order in Nuh on account of misuse of internet services to spread of inflammatory material and rumours.
Sources said that the Nuh administration had urged the state government to ban Internet services in the district.
After the arrest of Congress MLA Mamman Khan, the police and administration have beefed up security in the district to avoid any untoward incident.
On July 31, violence took place during the Brijmandal Yatra in Nuh, which led to the deaths of six people, including two home guards and a cleric.
More than 80 people were also injured in the violence that had spread to several other districts including Gurugram, Palwal, Rewari, Sonipat and Faridabad.
IANS