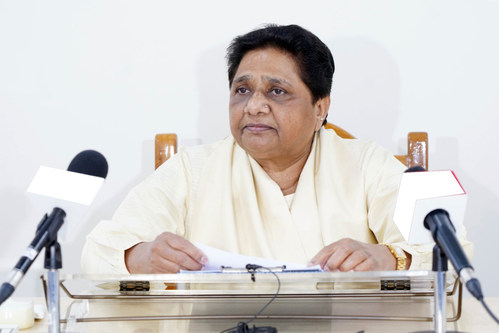 Lucknow: At a time when most political parties are busy welcoming leaders from other parties to strengthen their base ahead of the general elections, the Bahujan Samaj Party (BSP) in Uttar Pradesh has thrown its exit doors wide open for its own leaders.
The party has been expelling leaders at an alarming pace, creating an unexplained vacuum in leadership.
Top leaders including Swami Prasad Maurya, R. K. Chaudhary, Indrajeet Saroj, Brijlal Khabri, Thakur Jaiveer Singh, S. P. Singh Baghel, Brijesh Pathak, Dharam Singh Saini, Ram Achal Rajbhar, Lalji Verma, Naseemuddin Siddiqui, Ramveer Upadhyay and Nakul Dubey are some of the leaders who have been shown the door by BSP ibn recent years.
All these leaders are now occupying top positions in other parties.
The BSP recently expelled three of its leaders — Prashant Gautam, Imran Masood and Dharamveer Chaudhary — for indiscipline and anti-party activities.
Chaudhary, a Jat leader from Ghaziabad, who had been in the party for 27 long years, was expelled for participating in media and TV debates on behalf of the party.
Imran Masood, an influential Muslim leader from Saharanpur, who was inducted in the party with much fanfare by Mayawati herself in October last year, was expelled after he heaped praise on Congress leader Rahul Gandhi.
Gautam, a senior leader from Meerut, on the other hand, had written an open letter to Mayawati, after the party's rout in the municipal polls in UP, saying that she should have campaigned for the party leaders, much like chief minister Yogi Adityanath and SP national president Akhilesh Yadav.
"No party can survive on the whims of its leader. Mayawati has been expelling leaders without assigning a valid reason and the result is that, today, the BSP does not have a second or third rung leadership ibn the state. Even a leader like Satish Chandra Mishra who was once considered number two in the party hierarchy is now missing in action," said a party leader.
A former MLA said that the BSP had expelled leaders from various caste groups which led to a depletion of its vote bank. The party could manage to win only one seat in the 2022 assembly polls.
According to sources, one of the several reasons for the cadres' disillusionment with the leadership is Mayawati's refusal to meet her party workers.
"She has shut her doors on the cadres. Besides, there is no leader left in the party to whom we can discuss matters. Even her nephew Akash Anand is known for his arrogance and does not believe in interacting with the rank and file," said a district coordinator.
According to them, Mayawati has a coterie of "consultants" – most of them non-political – whom she trusts for running the party organisation, and she is not the leader who has her own ears to the ground. This keeps her away from the first-hand feedback on the party on many occasions.
The latest controversy surrounding the party's Amroha MP, Danish Ali, is a case in point.
A section of the leaders is already questioning the way the party reacted to the controversial remarks made against him by BJP MP Ramesh Bidhuri in Parliament. Mayawati had just posted a mild comment on X following the controversy.
No senior BSP leader met Ali – it was Congress leader Rahul Gandhi who went to his house and met him.
Similarly, Mayawati's decision to stay away from alliances for Lok Sabha elections has also not gone down well with BSP leaders who have started searching for greener pastures. This could mean some more expulsions in days to come.
IANS