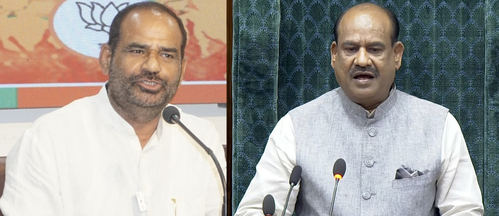 New Delhi: Days after several Opposition MPs wrote to Lok Sabha Speaker Om Birla over the unparliamentary remarks made by BJP MP Ramesh Bidhuri against BSP MP Kunwar Danish Ali, he has referred the complaints to the Privileges Committee.
According to sources, Speaker Birla has referred the complaint against Bidhuri, who is a Lok Sabha MP from South Delhi parliamentary constituency to the Privileges Committee. The Privileges Committee is headed by BJP MP Sunil Kumar Singh.
BJP MP Nishikant Dubey thanked Birla for referring the matter to the Privileges Committee and said, "Gratitude to the Speaker of the Lok Sabha Om Birla, he entrusted the responsibility of the investigation in Danish Ali's case to the committee of Lok Sabha.
"Today this was possible because the BJP has majority in the Lok Sabha. Otherwise in the first Lok Sabha in 2006, the RJD-JD(U)-Congress' fight involving shoes and microphones; Sonia Gandhi's assault in 2012; commotion at the time of formation of Telangana in 2014 when several MPs were injured, neither were committees formed nor was anyone punished."
Bidhuri stoked controversy after he used derogatory and abusive words against Ali during the Parliament Special Session.
Following Bidhuri's remarks, Ali wrote to Speaker Birla to refer his case to the Privileges Committee and also urged him to order an inquiry into the matter.
Even the BJP issued a show cause notice to party MP Bidhuri for using unparliamentary words against the BSP MP in Lok Sabha.
Bidhuri's remark sparked outrage, with the Opposition leaders calling for strict action against him.
Congress leader Adhir Ranjan Chowdhury and many other Opposition party MPs including DMK's Kanimozhi, NCP's Supriya Sule demanded Bidhuri's suspension from Parliament, saying that the language used by him "should not be used inside or outside Parliament".
Even Speaker Birla took "serious note" of the objectionable comments made by Bidhuri in the House and warned him of "strict action" if such behaviour was repeated in the future.
Meanwhile, many BJP MPs including Nishikant Dubey, Ravi Kishan and Harnath Singh Yadav also wrote to the Speaker alleging provocation by Ali. A total of 11 MPs had written to the Speaker. – IANS