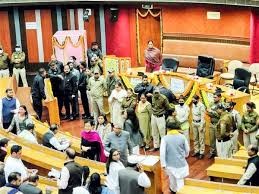 AAP, BJP members clashed in MCD House. (File Photo).
In the first election on January 6, AAP and BJP members physically clashed
AAP objects to LG naming the 10 aldermen without consulting the state government
Oath-taking by the nominated aldermen had stalled two previous meetings
A third attempt to elect a Delhi Mayor failed on Monday as protests erupted after a major change in rules that the Aam Aadmi Party (AAP) alleges will favour the BJP.
Protests erupted over nominated members being allowed to vote in the election. Earlier, on January 6 and 24, too, the election was canceled, and the Municipal Corporation of Delhi (MCD) House was adjourned.
The meeting was called off until further notice amid huge protests by the BJP and AAP after 10 councillors nominated by Lieutenant Governor VK Saxena were allowed to vote. The Delhi Municipal Corporation Act says nominated members, or aldermen, cannot vote in house meetings.
It has been two months since the AAP ousted BJP in municipal body which the latter controlled for 15 years. On Monday, the civic body was to elect Delhi's next mayor and deputy mayor.
Context
The Delhi mayoral elections were called off earlier on January 6 and January 24, too, following clashes between councilors of both parties during the MCD House session. Both meetings saw loud protests from AAP councilors. The AAP alleged that the BJP was attempting to seize control of the MCD despite losing the polls. Though AAP has a majority in the corporation, a secret ballot and cross-voting could change the outcome.
AAP had earlier objected to the Lieutenant Governor naming the 10 aldermen without consulting the state government. AAP alleges that these members are inclined to support the BJP.
As per the Delhi Municipal Corporation (DMC) Act of 1957, the mayor and deputy mayor are to be elected in the first session of the House following elections.
AAP to approach SC
Following the ruckus, AAP said that it would approach the Supreme Court for court-monitored mayoral polls within 10 days. "We want the election and we want Delhi to have a mayor," said AAP's Atishi, accusing the BJP of deliberately stalling the process with their protests. Oath-taking by the nominated aldermen had stalled two previous meetings to elect a Mayor as AAP had raised objection.
BJP refutes AAP charges
BJP leader and Union Minister Meenakshi Lekhi said: "Presiding officer has decided that aldermen can vote. AAP is trying to rig the polls." The BJP's seven Lok Sabha MPs from Delhi, AAP's three Rajya Sabha members and 14 MLAs nominated by the Delhi Speaker are also allowed to vote, according to NDTV. The Congress has said it will abstain, sparking allegations of "deal-making with the BJP" from AAP councillors.
-INDIA NEWS STREAM