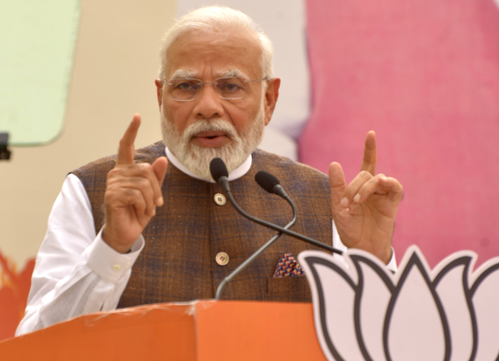 Nizamabad: In a politically explosive 'disclosure' ahead of Telangana assembly elections, Prime Minister Narendra Modi on Tuesday claimed that Chief Minister K. Chandrasekhar Rao had requested him to take Bharat Rashtra Samithi (BRS) into National Democratic Alliance (NDA) but he denied him entry due to his misdeeds.
Addressing a public meeting here, he said for the first time he was sharing a secret. Claiming that it is '100 percent truth', he suggested the media to crosscheck the same.
He said BRS Chief had met him to seek BJP's help after Greater Hyderabad Municipal Corporation (GHMC) elections (2021) as BRS had failed to get the majority in the civic body while BJP had won 48 seats.
"You might have seen before the Hyderabad elections, he used to come to the airport with his entire army to welcome me. What happened, he suddenly stopped coming and is angry now. The reason is that after the Hyderabad elections he came to meet me in Delhi, presented a shawl, tried to show immense love… that is not in KCR's character. He told me the country is progressing under your leadership and we want to become part of NDA," said Modi
"He requested our help in Hyderabad Municipal Corporation. I told KCR your deeds are such that Modi can't join you. If we have to sit in opposition we will sit but we will not betray the people of Telangana. I refused to help him and denied him entry into NDA which has made him angry."
The Prime Minister claimed that KCR met him again to say that he wants to hand over the reins of power to his son KTR. "He requested me to bless KTR. I asked him are you a Raja maharaja? This is democracy and people will decide who should rule them. That was the last day he met me," claimed Modi.
The Prime Minister said that after this KCR never had the courage to make eye contact with him. He remarked that a corrupt person can't sit next to him.
Modi also alleged that BRS helped the Congress in Karnataka elections and the Congress was now trying to pay back in Telangana by dividing the votes.
The Prime Minister launched a scathing attack on the BRS government saying it 'looted' huge funds sent by the Centre for the development of Telangana.
He said while thousands of families made sacrifices for Telangana, only one family had grabbed everything. He told people that KCR's family used their votes only to become rich and was busy only in promoting family rule and corruption.
He alleged that BRS turned Loktantr into 'Loottantr' and Prajatantr into 'Pariwartantr'. "There is KCR, his son, daughter, nephew or their in-laws. There is no other work but only loot," he remarked.
This was Modi's second public meeting in Telangana in three days. This time he was speaking in Nizamabad Lok Sabha constituency, where BJP's D. Arvind had defeated KCR's daughter K. Kavitha in 2019 elections.
Modi appealed to people to be cautious of the Congress party saying it had taken a contract of dividing the votes at any cost.
He alleged that the BRS has opened its coffers for Congress to split the votes. "There is a game going on behind the curtains. BRS and Congress are working together for a backdoor entry," he said.
"These anti-Telangana people extend small benefits to people before elections to get the right to loot Telangana for next 5 years. We have to reverse this tradition in Telangana," he said.
Modi appealed to people to give BJP a chance. "Trust me for five years, not more.. Whatever they looted I will bring all that to your feet," he said.
He alleged that Congress made big promises in several states but to implement them imposed several conditions.
Alleging that BRS also made a false promise for unemployment allowance, he said both BRS and Congress were the same in their approach.
"There is no need for youth to get disappointed. This is Modi's guarantee. After BJP comes to power we will expose all their sins. I will remove all their evils and take up this as a movement because I am seeing how they are looting Telangana," he said.
Modi said after India became independent, Nizam had created hurdles in liberation of Hyderabad region but a 'Gujarati son Sardar Vallabhbhai Patel demonstrated power and gave you independence.'
"Today another Guujarati son has come for your development, welfare and prosperity," he added. – IANS