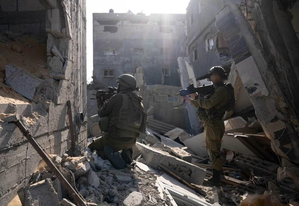 Tel Aviv: The Israel Defense Forces (IDF) on Thursday said that it has captured a key stronghold of the Hamas militant group in the Gaza Strip after a 10 hour-long battle.
In a statement, the military said the Nahal Infantry Battalion captured the stronghold named as 'Outpost 17' in the Jebaliya region.
The IDF further claimed that several Hamas and Palestinian Islamic Jihad militants were killed in the fierce fighting.
The military said it also located a tunnel shaft adjacent to a kindergarten school that leads to an extensive underground route.
The fighting took place within the tunnel system as well as on the ground.
The military however, did not specify the number of casualties on the IDF's side.
This development comes as Israeli forces have intensified its ongoing ground offensive in Gaza against the Hamas in retaliation to its unprecedente attack on October 7.
IANS