Representational Image courtesy: Hindustan Times
Union Minister for Housing and Urban Affairs Hardeep Singh Puri left red faced after the Union Ministry of Home Affairs denied any move to allot flats to the Rohingya refugees living in Delhi.
The MHA statement came hours after Puri lauded the "landmark decision" by the government to shift the illegal migrants into flats meant for the economically weaker section (EWS). Early Wednesday, Puri tweeted that the Rohingyas would be shifted to EWS flats in the Bakkarwala area of Delhi. They would be provided basic "amenities and round-the-clock protection", he said. Puri tweeted in the morning: "Those who made a career out of spreading canards on India's refugee policy deliberately linking it to #CAA (Citizenship Amendment Act) will be disappointed. India respects & follows @UN Refugee Convention 1951 & provides refuge to all, regardless of their race, religion or creed." His tweets were followed by three from the Union Home Ministry.
However, the Union Home Ministry said that the Delhi government had submitted a proposal for shifting Rohingyas to a new location, but that was denied. The ministry was already working on the matter of their deportation, it said.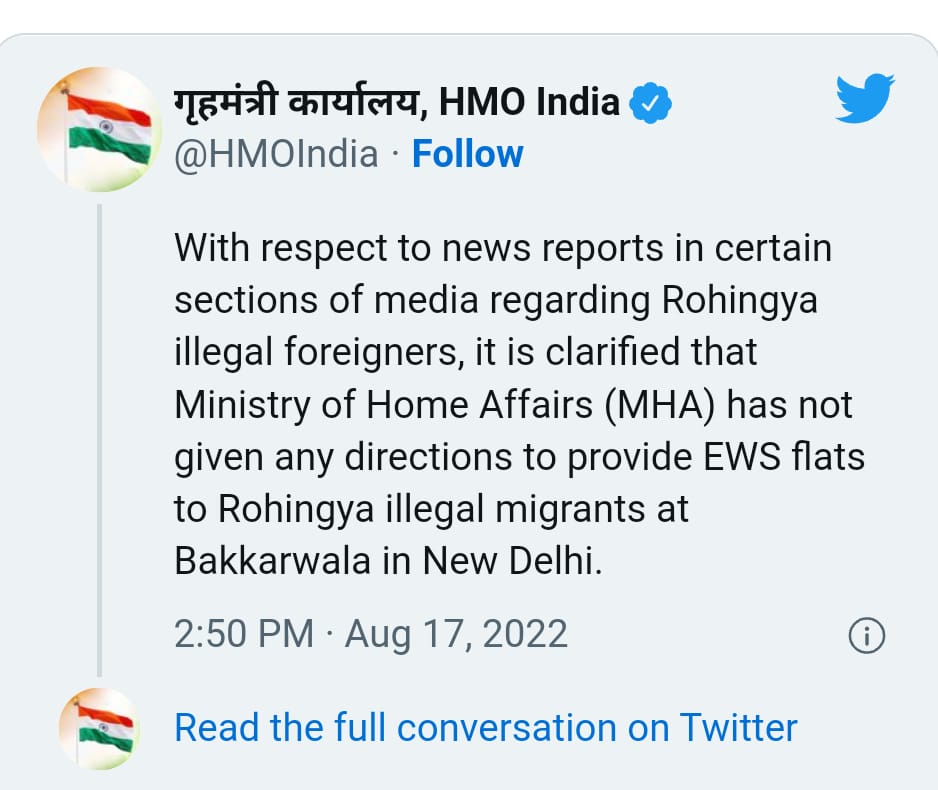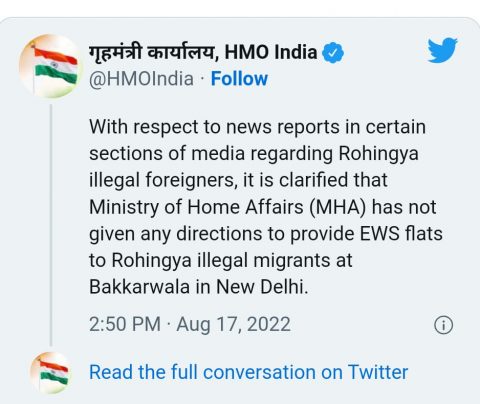 As assumed Puri tweet irked the saffron outfits with VHP urging the Narendra Modi government to deport the Rohingyas instead of providing them with police protection and housing. Quoting VHP central working president Alok Kumar, The Print said that the Puri must be reminded that in the year 2020 Union Home Minister Amit Shah declared in Parliament that the Rohingyas would never be accepted in India.
The MHA memo said: "Govt of Delhi proposed to shift the Rohingyas to a new location. MHA has directed the GNCTD (Government of National Capital Territory of Delhi) to ensure that the Rohingya illegal foreigners will continue at the present location as MHA has already taken up the matter of their deportation with the concerned country through MEA (Ministry of external Affairs)."
"Illegal foreigners are to be kept in Detention Centre till their deportation as per law. The Government of Delhi has not declared the present location as a Detention Centre. They have been directed to do the same immediately," the statement said.
The Rohingya settlement issue has been one of polarizing subjects in the country with all the Hindutva groups have been urging the Modi government to deport them as soon as possible. The Centre too said that it would not accept the persecuted Rohingyas. There are nearly 20,000 Rohingya refugees in India, most of them working as labourers.