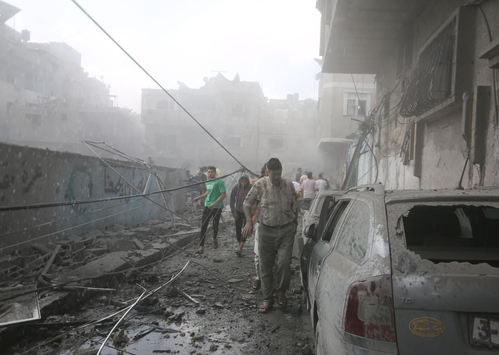 Gaza/Jerusalem: Shortly after Israel issued an order for the people in north Gaza to evacuate "southwards", the Hamas on Friday urged residents not to leave their homes and ignore the directive.
"The occupation is attempting to spread and circulate false propaganda through various means, aiming to create confusion among citizens and undermine the stability of our internal front," CNN quoted the Palestinian militant group as saying in a statement, referring to Israel.
It also claimed that employees of "international institutions" remained at their posts and were not evacuating.
Earlier on Friday, the Israel Defense Forces (IDF) called on all civilians in Gaza City to evacuate "southwards" as it continues to bombard the Hamas-controlled enclave in response to the brutal October 7 assault on the Jewish nation by the militant group.
"The IDF calls for the evacuation of all civilians of Gaza City from their homes southwards for their own safety and protection and move to the area south of the Wadi Gaza," CNN quoted an official statement issued by the Forces as saying.
Wadi Gaza, known for its coastal wetlands and biodiversity, is a river valley located around the centre of the Gaza Strip, snaking across its entire width and ending in the Mediterranean Sea.
"You will be able to return to Gaza City only when another announcement permitting it is made."
The IDF went on to say that the Hamas militants are hiding inside tunnels underneath the ciy and inside buildings populated with civilians.
It urged civilians to evacuate the city "for your own safety and the safety of your families and distance yourself from Hamas terrorists who are using you as human shields", the BBC reported.
"In the following days, the IDF will continue to operate significantly in Gaza City and make extensive efforts to avoid harming civilians," it added.
Late Thursday night, the UN warned that an Israeli military order to evacuate the entire 1.1 million population of northern Gaza to the south was "impossible" without causing major humanitarian consequences.
The UN has strongly appealed for the order to be rescinded, saying that it could lead to a "calamitous situation".
IANS