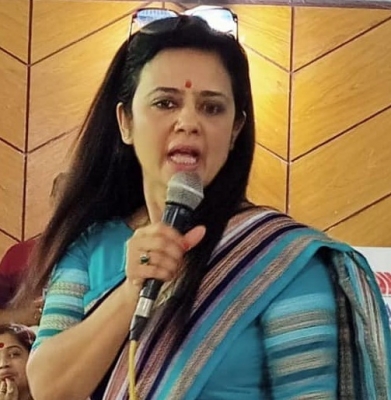 Amid growing protests over the release of Bilkis Bano case convicts, TMC leader Mahua Moitra expressed hope that her writ in the Supreme Court against remission granted to all the rapists and murders by Gujarat government in the case will be successful.
The TMC leader told Karan Thapar in an interview for The Wire that "she has full faith in the SC" and that the latter would strike down the Gujarat government's decision. She also said that the ease with which remission was granted by the BJP-ruled state and the way the convicts were felicitated "suggests that gang rape and murder have been normalised and weaponised" in India.
The Trinamool Congress Lok Sabha MP challenged the remission given to the convicts in the case in the Supreme Court. The top court agreed to hear her petition on Thursday.
She, however, also questioned as to why the Supreme Court did not take suo moto cognizance of the matter when the state government took such a decision. After setting in motion the remission process did it not have a moral duty to rectify a 'wrong' outcome?
Mahua Moitra asked what the Central government needs to decide is whether Bilkis Bano is a woman or a Muslim. She suggests that the silence of the Modi government over the remission as well its failure to appeal against the remission suggests that everything the Prime Minister and the government say about empowering women does not seem to apply in this case.
The interview also discussed the response of the Narendra Modi government to the remission and how this remission impacts on and contradicts the prime minister's Independence Day speech where he spoke at length about nari shakti (women's power) and honouring women. Moitra makes clear that it's almost impossible to believe that the Gujarat government would have granted remission without consulting the Union government, something it was also required to do under Section 435 of the Criminal Procedure Code for all matters investigated by the CBI
Earlier, Moitra in an article, published in the Indian Express, strongly criticized the BJP government at the Centre saying the latter's silence "is deafening". She further underlined: "To have gang-rapists, the killers of a 3-year-old walk out of jail and be feted with a hero's welcome with the active connivance of an entire establishment requires a very special kind of evil. But for every BJP voice that lauds this "sanskar", there exists a Kali, waiting in the wings, tongue out and foot raised, who will fight back. Like the young woman gang-raped in Delhi 2012, who even in death strengthened the moral fibre of India, Bilkis even in shocked silence will spur us to action".
At the end, she said: This is a litmus test moment for Indian women, for the sanctity of justice and also for the sort of country we want India to be." – INDIA NEWS STREAM