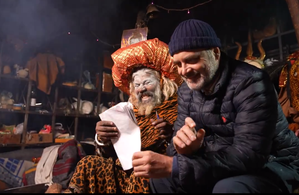 New Delhi:  Former Congress President Rahul Gandhi, who visited the holy shrine of Kedarnath in Uttarakhand for three days last week taking a break from his busy campaign schedule in five states, on Monday shared the video of his conversation with Mouni Baba saying that "fear is an illusion of mind".
Sharing the video on X handle, the Congress leader said, "Fear is an illusion of the mind! Know closely the secret of 'Don't be afraid' from 'Mouni' Baba in Kedarnath, and his years of penance."
In the video, Rahul Gandhi can be seen asking Mouni Baba, for how long he has been sitting in Kedarnath to which he gestures with his hand that he has taken a vow to not speak for 11 years.
When the Wayanad Lok Sabha MP enquired why he took such a vow, Mouni Baba took out a notebook and wrote there this is known by Baba Kedar (Lord Shiva).
The Congress leader then asked him what change has he witnessed for not speaking for 11 years, he again writes which said that this is known by Baba Kedar.
Mouni Baba also wrote in his notebook referring his visit to him saying that he has not come there on his own to meet him but he came due to the blessings of Baba Kedar. Mouni Baba then asked him with his hand gesture if he will like to eat something, to which the Congress leader replied that he will eat a little.
The Congress leader then took out his phone and dialled his sister and party general secretary Priyanka Gandhi Vadra and told her that Baba does not speak. He also said that Baba is not from anywehere and he is not going anywhere.
Another person seated to Mouni Baba in his tent then says that ego and anger perish on their own if one can remain silent. To this, Rahul Gandhi says that ego and anger do not exist while eating the bread offered by Mouni Baba. The another person said that this is correct and no one in this world gives up attachments.
He further says that everyone is attached to something or someone. It is attachment only, what else.
Rahul Gandhi again arrives at the place of Mouni Baba next morning and Baba writes in his notebook and says Lord Kedar's blessing are with you… keep on moving ahead. The Mouni Baba then says that Rahul Gandhi is the name of the body.
Mouni Baba then writes on the paper that fear is an illusion of mind.
Meanwhile, Congress General Secretary Jairam Ramesh also shared the post of Rahul Gandhi's meeting with Mouni Baba in Kedarnath.
Ramesh said, "Recently Rahul Gandhi went to Kedarnath while taking forward the series of Bharat Jodo Yatra. He had a conversation with 'Mouni' Baba there on penance and fear."
Rahul Gandhi visited Kedarnath for three day from November 5 to 7.
During his visit to Kedarnath, the Congress leader offered his prayers at the holy shrine and also participated in langar and distributed tea to the pilgrims visiting Kedarnath.
After his return from Kedarnath, Rahul Gandhi once again kicked off his poll campaign in the states of Rajasthan, Telangana, Chhattisgarh and Madhya Pradesh.IANS