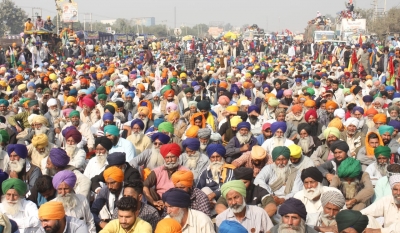 New Delhi: The Samyukt Kisan Morcha (SKM), ten top central trade unions, and various organizations have come together and will be organizing a nationwide protest against the Central government's Agnipath Scheme on June 24. The protest is significant as the SKM that successfully forced the Modi government to withdraw the three controversial Farm Acts has taken up cudgels against the Scheme that replaces permanent jobs in the Army with a contractual stint of four years.
Hannan Mollah of the CPM said that it will be a symbolic and peaceful protest with the demand to withdraw the retrograde scheme. "The protest will be organised at district and block levels throughout the country along with the SKM and a signed memorandum addressed to the President, the supreme commander of the three forces, will be submitted to the District Magistrates. This is the first step, further action will be decided in consultation with the SKM and protesting youth," said Mr. Mollah.
The lending of support to the protest against Agnipath scheme by SKM and CTUs is important as it could quell the violent protests and organize them into a proper shape as was witnessed during the farmer agitation that became a mammoth peaceful movement.
"The central trade unions have taken note of the widespread anger and unrest that is being reflected in numerous demonstrations of youth that surged spontaneously throughout the country against the retrograde Agipath scheme dubiously designed to degenerate and casualise the quality of employment even in the country's armed forces through fixed-term contract, that too without any pensionary benefits, not to speak of post-retirement medical and other social security," a joint statement from the ten CTUs said.
The statement further said that Agnipath is a dubiously designed scheme that will severely degenerate the quality of employment in the country's armed forces and will be damaging and disastrous for the country's security and combative preparedness.
–INDIA NEWS STREAM