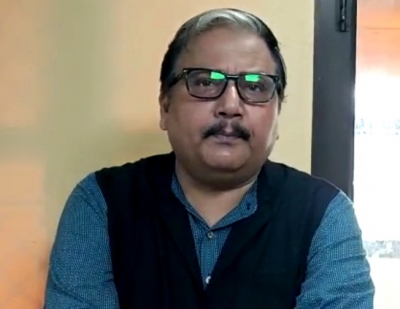 Patna: BJP MLA Raghvendra Pratap Singh on Thursday threatened to behead RJD Rajya Sabha MP Manoj Jha following his alleged poem on 'Thakurs'.
In a video statement, Raghvendra Pratap Singh said: "You are a Brahmin. Don't forget it. You have forgotten that I am also a Rajput. We will not even think for a second before beheading you."
He asked Jha why he has commented about the Thakur community in such a manner.
"Don't remind me of the old stories? You should apologise to the Rajput community. If you will not apologise be prepared to face the wrath of Rajput community," he said.
Following the threatening statement of Raghvendra Pratap Singh, Rishi Mishra, the former MLA and spokesperson of RJD wrote a letter to the Home Minister Amit Shah seeking 'Y' category security for Jha.
"It is a matter of deep concern that a BJP MLA has given a life threatening statement against RJD Rajya Sabha MP Manoj Jha. The BJP MLA Raghvendra Pratap Singh has threatened to behead Manoj Jha. A former MP (Anand Mohan) also gave a threatening statement to slit the tongue of Manoj Jha. BJP MLA and former minister Neeraj Kumar Bablu also threatened to cut tongue of Manoj Jha," Mishra said.
He said that such statements may turn life threatening for him in future as well.
"Professor Manoj Jha is a civilized, peaceful and intellectual person. He has won the best MP award on the basis of intellectual speeches. He increased the respect of Bihar in the country. So, we demand Y category security for Manoj Jha," Mishra wrote in the letter.
Manoj Jha had recited a poem referring to 'Thakurs' during the debate on the women's reservation bill in the Rajya Sabha last week.
The poem refers to 'Thakur', which the former MP Anand Mohan claimed was aimed at targeting a particular caste. He had said that he wouldn't tolerate humiliation of his community (Rajputs). – IANS