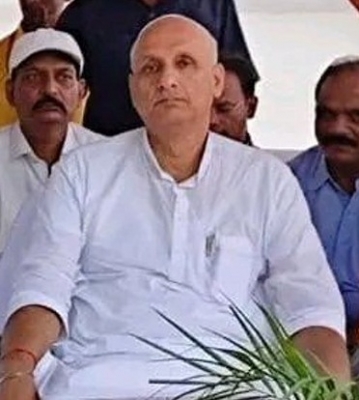 Patna: Bihar Education Minister Chandrashekhar Yadav on Thursday refused to withdraw his controversial statement on Ramcharitmanas.
"There are five to six 'Chand' of Ramcharitmanas's Sundar Kand and Uttar Kand which are objectionable and I have objection to it. That's why I said that it spreads hatred in society. I am firm on it and will not withdraw at any cost. A person announced a Rs 10 crore bounty for slitting my tongue, I want to say that please, someone get rich by doing it," Yadav said.
"Ramcharitmanas spreads hatred in the society. It stops Dalit, Backward Class people and women from education. It stops equality for them in society. Manusmriti spread hatred in the first era, Ramcharitmanas in the second era and M.S. Golwarkar's 'Bunch of Thoughts' in third era," he said.
"If people would want to shoot me, they can do it but I will not withdraw my statement and cannot apologise," he further said.
Earlier, Ayodhya seer Jagadguru Paramhans Acharya announced a bounty of Rs 10 crore for anyone who slits the tongue of Chandrashekhar Yadav if he does not apologise for his statement in one week.
Meanwhile, Bihar Chief Minister Nitish Kumar said that he will ask the education minister for his comment on Ramcharitmanas. "I am in Darbhanga and I have no details about his actual statement," he said.
Samrat Chaudhary, the leader of opposition in Bihar legislative council said: "Chandrashekhar Yadav is a mentally disturbed person. The Bihar government should admit him to the Koilwar mental hospital of Koilwar in Bhojpur district."
Hari Bhushan Thakur, another BJP MLA said: "If he is a man, he must make a controversial statement on Islam. He will be beheaded (Unka Sar Tan Se Juda Ho Jayega). He should apologise for his statement."
"The minister of Nitish Kumar is disturbing the religious sentiment of common people. He will pay the price of it. Chandrashekhar Yadav has hurt the sentiments of lakhs of people. CM Nitish Kumar is dividing the communities through caste-based census. Hence, what can we expect from his minister," said Chirag Paswan, MP and LJPR president.
IANS