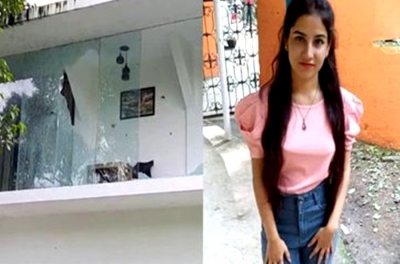 Amid the ongoing probe in the sensational Uttarakhand girl murder case, former staffers told police that the resort, where the 19-year-old receptionist worked, was a den of prostitution and drug abuse. The resort is owned by Pulkit Arya—the son of now-expelled Bharatiya Janata Party (BJP) leader Vinod Arya—who is the main accused in Ankita Bhandari's alleged murder in Rishikesh.
Pulkit used to bring 'special guests'
"Pulkit often used to bring some 'special guests' to the resort for whom unidentified women would come. Those guests used to indulge in sexual activities with these women in their rooms. They were also served expensive liquor arranged by him along with some drugs such as cannabis, marijuana and smack," a couple who worked in the resort was quoted by Times of India as saying. Rishita— the former receptionist at Vanantra—on Tuesday alleged the management provided illicit liquor, cannabis, other drugs, and even girls to the guests. She told NDTV, "I felt they wanted me to get into it too… They would abuse me, use the worst of slurs." Her husband Vivek— housekeeper at the resort—alleged he was "beaten up and blackmailed" after he raised objections over the activities. The former employees alleged that Pulkit, prime accused the murder case, used to "mentally harass the employees" and would frame anyone who tried to quit with false cases of theft and assault. A married couple who worked at the resort told police that they witnessed prostitution and drug abuse inside the resort. A few clips of their conversation with the media regarding their statement to the police have also gone viral, according to DNA. These depositions by former staffers will be taken on record and will be taken into consideration in their investigation, said police.
'Govt under fire for demolition'
The Uttarakhand government is under fire after the local district administration demolished the resort partly last week in an alleged attempt to destroy evidence. However, Uttarakhand DIG PR Devi—head of the special investigation team (SIT) in the case—clarified all evidence was collected before the demolition. "All evidence has been collected. Rumors of evidence being destroyed are baseless and untrue," BJP spokesperson Suresh Joshi said.
Deceased couldn't even draw first salary
The deceased's mother is an Anganwadi worker, while her father used to work as a security guard but quit some years ago. She had finished her schooling and was looking forward to college but couldn't take admission as her family was facing a financial crisis. So, she decided to take up the resort receptionist's job. Bhandari—who joined Vanantra less than a month ago—reportedly died of drowning, and blunt force injuries were also found on her body.
Meanwhile, AIIMS Rishikesh on Monday issued the final post-mortem report on Monday, which reportedly states asphyxia due to drowning as the reason for Ankita's death, along with 4-5 antemortem injury marks on her body. The preliminary autopsy report had also stated drowning as the reason for death and had pointed injury marks on the teenager's body.
Widespread outrage erupted in the state. Following this the accused were held September 23; the body was recovered on September 24 and was cremated the next day.
The BJP later expelled Vinod and his other son Ankit, too. – INDIA NEWS STREAM