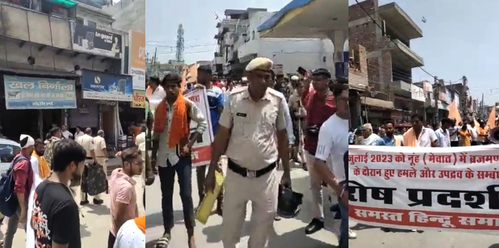 Gurugram: In a purported video, a group of Hindus carrying the banner of Nuh's Brij Mandal Jalaabhishek Yatra were seen urging shopkeepers in Haryana not to employ Muslims and to boycott the community vendors.
The Hindu group gave out this warning during a rally in a market place in Haryana. Shockingly this announcement was made in the presence of police personnel who were seen walking along with the group members in the video.
The members of the Hindu outfit raised "Jai Shri Ram" slogans during the rally. However, the video is yet to be verified by the police.
The police said they are probing the matter. "No one will be allowed to disrupt peace and Harmony in Nuh," said officials.
On Sunday, a maha panchayat was held at Tigra village of Gurugram in support of the four suspects who were arrested in connection with the murder of Imam Muhammad Saad, Anjuman Masjid in Sector 57.
The villagers said the four arrested were wrongly framed in the alleged incident. They demanded to see the evidence against the men who have been arrested for the violence.
The maha panchayat was attended by hundreds of villagers along with Hindu outfit groups where they publicly announced that hundreds of Muslim men working in Gurugram as carpenters, barbers, vegetable vendors, mechanics, and cab drivers should be boycotted and apartments or shanties should not be rented out to them.
Tigra village is close to the Anjuman Masjid in Sector 57 which was targeted in the city soon after attack on a Hindu procession which was passing through a Muslim-majority village in Nuh.
During the violence in Gurugram several meat shops, scrap shops, furniture shops, and slums were targeted in different areas of Gurugram to target a community of people.
"Several police teams are on the ground to protect people from any incidents. We have ensured the deployment of police at all key locations. We are urging people to immediately inform the police or dial 112 for any incident. No one will be allowed to disrupt law and order in the city," Varun Dahiya, ACP (crime) said.
IANS