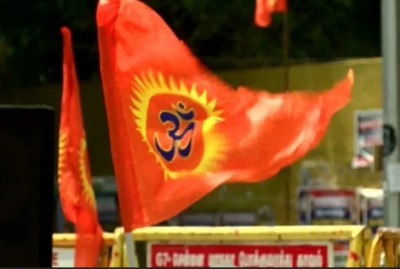 Prayagraj: The Vishwa Hindu Parishad (Kashi Prant) has decided to install saffron flags with 'Om' printed on them, at around five lakh houses in Kashi Prant comprising 17 districts of Uttar Pradesh on the occasion of Hindu New Year.
The VHP aims to install at least one lakh saffron flags in Prayagraj alone.
The VHP has geared up to celebrate the 'Ramotsav' event across 17 districts of Kashi Prant between March 22 and April 6 to mark the Hindu New Year.
VHP spokesman Ashwani Mishra said: "The organisation aims that every Hindu house should install saffron flag on the occasion of Hindu new year beginning from March 22."
Senior VHP leader Lal Mani Tiwari said: "Volunteers have been asked to install the saffron flags at each and every house belonging to Hindu community."
This is a part of the VHP strategy to consolidate the feeling of Hindutva in every Hindu across the state.
IANS