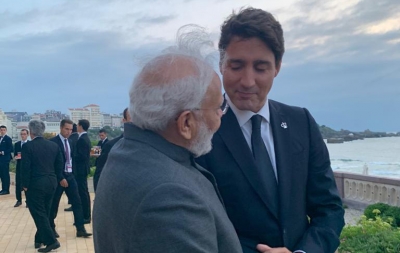 New Delhi: The Trudeau government had alienated India by shutting down the efforts Indian Prime Minister Narendra Modi was making to reconcile with Khalistanis, who for years had been fomenting violence in India from their Canadian safe haven, columnist Terry Glavin wrote in National Post.
"Little was accomplished by the Canada-India 'cooperation framework' on intelligence and security signed during Trudeau's disastrous costume-pageantry tour of India in 2018," he said.
In the foreground is the June 18 gangland-style killing of Hardeep Singh Nijjar outside the a gurdwara in Surrey, British Columbia, where Nijjar served as president. But in the background is what became largely a covert operation, a back channel reconciliation effort between Modi's BJP and veteran Canadian Khalistanis, who were growing weary of agitating for a separate Sikh state in India that India's Sikhs want nothing to do with, Glavin said.
That initiative was facilitated mostly by the British Sikh activist Jasdev Singh Rai, who had met with the Canadian Security and Intelligence Service during several visits to Canada, but the Trudeau government bowed to a Khalistani-influenced group of gurdwara leaders and "obstructed the peace dialogue process", Rai said at the time.
Rai found himself barred from Canada, Glavin said.
As for what Trudeau referred to only as a "potential" link to "agents" of the Indian government, this raises another gangland-style assassination in Surrey from a year before Nijjar was gunned down — the murder of Ripudaman Singh Malik on July 14, 2022 — and points directly to the BJP-Khalistani peace talks that Trudeau "obstructed", the article said.
Malik had been one of Talwinder Singh Parmar's chief lieutenants in the Air India plot. Acquitted on charges related to his role in the bombing, the import-export multimillionaire had gone on to join several former leading Khalistanis in Canada who took up Modi's offer of amnesty. They had their names removed from terror blacklists and regained their ability to acquire Indian visas, Glavin said.
Nijjar and Malik had ended up on irreconcilably opposing sides in British Columbia's gurdwara politics. Malik had gone so far as to publicly praise Modi for his outreach efforts, with Nijjar's camp accusing Malik of being an Indian government agent — the kiss of death. At the time of Malik's assassination, intelligence officials in Delhi were convinced that his assassins came from Nijjar's camp, Glavin added.
IANS