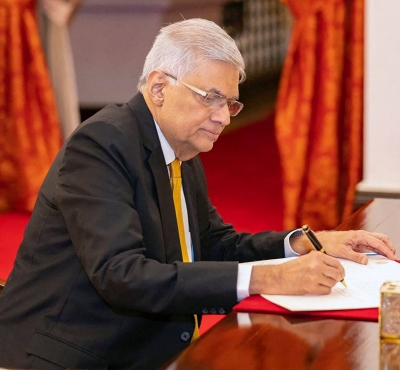 Colombo: Amidst looming protests mainly over tax hikes and early elections, Sri Lankan President Ranil Wickremesinghe has called armed forces to maintain public order in a number of selected areas.
An extraordinary gazette notification was issued by the President calling upon the armed forces to maintain public order with effect from March 22.
"By virtue of the powers vested in me by Section 12 of the Public Security Ordinance (Chapter 40), I, Ranil Wickremesinghe, President, do by this order call out with effect from March 22, 2023 all the members of the Armed Forces specified in the First Schedule hereto, for the maintenance of public order in the areas specified in the Second Schedule hereto," the gazette announced.
The Army, Navy and Air Force have been called out for the maintenance of public order in nearly 30 districts, including capital Colombo.
The areas that the forces have been called included the Western province and former war-torn Northern Province and the territorial water adjacent to the said areas.
Following a much-delayed deal, Sri Lanka received the green light to receive $2.9 billion International Monetary Fund (IMF) conditional bailout to overcome the worst ever financial crisis the country is facing since independence in 1948.
On Tuesday, the global lender announced that island nation would receive the first $330 million IMF tranche but the country was directed to introduce some politically unpopular decision such as severe tax hikes.
On March 15, over 40 professional bodies including doctors and bankers and various public and private trade unions launched a strike against tax hike crippling the country.
Opposition parties also demand to conduct local government election which was earlier scheduled for March 9 but the government delays claiming no money to hold an election. – IANS