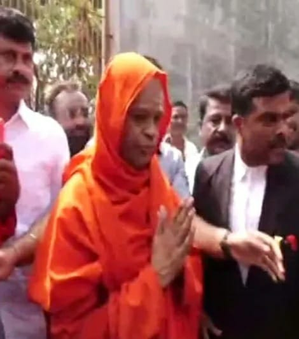 Bengaluru: Rape accused Lingayat mutt seer Shivamurthy Murugha Sharanaru, who walked out of prison on Thursday after spending 14 months behind the bars, said that he would not prefer to speak anything about the case at the moment.
Speaking to reporters after being released on bail from the Chitradurga prison, he said: "I don't want to say anything about the allegations against me. Silence suits me best. The advocates will answer all questions."
After his release from prison, he visited seer Jayadeva Gadduge.
His supporters welcomed him in large numbers and queued up before the Virakta Mutt of Davanagere.
Meanwhile, Odanadi NGO founder M.L. Parashuram, who pursued the case against the seer, stated that the rape accused seer got bail due to the mistakes of the investigating officers.
"Had the case been probed by a high-level investigating agency, he would not have been granted bail so early. The slogans raised in favor of the accused seer have created fear among the victims, who are children," he said.
K.V. Stanley, co-founder of Odanadi NGO, stated they would explore legal options to get the bail cancelled.
"The minor victims are living in fear after the release of the accused seer. We are trying to instil strength and courage in them," he said.
Shivamurthy Murugha Sharanaru of the historical Murugha Mutt in Chitradurga was released from prison on Thursday after 14 months.
He was arrested last year on charges of raping minor girls staying at the hostel run by the Murugha Mutt.
The influential Lingayat seer spent 14 months in the Chitradurga district prison.
The Karnataka High Court, on November 8, granted conditional bail to him.
The seer is facing charges under the POCSO Act, IPC sections, Juvenile Justice Act, Religious Institutions (Prevention of Misuse) Act etc.
He was arrested after high drama on September 1, 2022, and has been in jail since then.
The Karnataka High Court granted conditional bail to the rape accused.
The High Court Bench, headed by Justice Sreenivas Harish Kumar, restrained the accused seer from entering the premises of the mutt and also directed him to surrender his passport to the court.
He was also asked to provide two sureties.
IANS