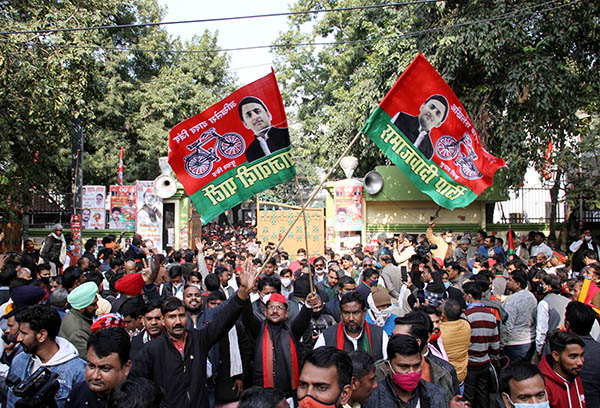 Lucknow: The Uttar Pradesh Police have registered an First Information Report (FIR) against nearly 2500 Samajwadi Party (SP) workers and leaders after hundreds of workers turned up at the party office on Friday to physically attend a 'virtual Program'. The program was addressed by SP chief Akhilesh Yadav and OBC leader Swami Prasad Maurya who joined the SP at party headquarters in Lucknow.
A case was filed under the "Epidemic Act" for allegedly violating the "model code of conduct" and "Covid-19" protocol as a huge crowd gathered.
The huge crowd gathered during the inclusion of several Bharatiya Janata Party (BJP) rebels, including former Uttar Pradesh minister Swami Prasad Maurya, into the SP ahead of the Assembly polls 2022.
The FIR has been registered at the Gautam Palli police station for violation of "prohibitory orders" and also the "Epidemic Act" in connection with massive crowds gathering at the SP office, a senior police official said.
The Lucknow Police told the media that an FIR has been registered against nearly 2,500 SP workers under Sections 188, 269, 270 and 341 of the Indian Penal Code (IPC), along with relevant sections of the "Epidemic Diseases Act". The police official also added that video evidence was procured before an FIR was filed in this regard.
The Lucknow administration had said earlier in the day that the city police are being deployed wherever people are gathering in large numbers in violation of the EC's orders.
"We received information on social media about crowds gathering outside the SP office and sent police personnel to clear the crowds," the police authorities said.
The district authorities also told the media that the SP's virtual rally was held without prior permission. "Upon receiving information, a police team and magistrate were sent to the SP office. Action will be taken on the basis of their report," authorise added.
The Election Commission of India (ECI) has announced several precautionary and proactive measures for the five poll-bound states, including a total ban on physical rallies and roadshows, till January 15 in view of the massive hike in Covid-19 cases.
T
Voting for the 403-member Uttar Pradesh Assembly will be held in seven phases from February 10 to March 7. The results will be held on March 10.
—INDIA NEWS STREAM