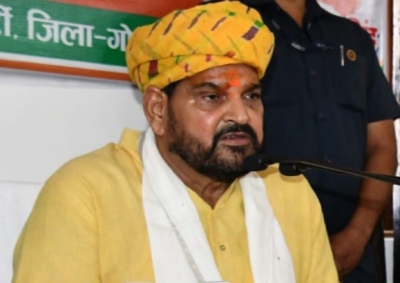 Baghpat (Uttar Pradesh): The Rajput community has now jumped into the fray in the ongoing wrestlers versus Brij Bhushan Singh battle.
The Rajput Vikas Samiti has expressed its support to Wrestling Federation of India (WFI) chief and BJP MP Brij Bhushan Sharan Singh, accused of sexually harassing women grapplers.
The Rajput Samiti has also opposed the khaps' intervention in the protest by wrestlers, saying "the country is run by the constitution and law, not by panchayats."
A delegation of 70-80 members met Baghpat District Magistrate Jitendra Pratap Singh on Monday and handed over a memorandum to him to be forwarded to the President of India, expressing their support to Brij Bhushan Sharan Singh.
The delegation of Rajputs was headed by Rajesh Chauhan, president of Rajput Vikas Samiti (RVS).
Chauhan said the allegations against Brij Bhushan should be properly investigated before taking any action against him.
"We stand in support of the wrestlers, but khaps are politicising this issue and we strongly condemn this," said Rajesh Chauhan.
Ashok Chauhan, vice-president of RVS, said decisions taken in these khap panchayats are unlawful and unethical.
"On several occasions, it was seen that khap representatives only try to misuse their platform for political gains.
Even during the farmers' protest against the Centre's new agriculture laws, the khaps meddled in the affairs of farmers, and this is the reason why it took long for the agitators and the government to arrive at a settlement, and the protest dragged on for a long time," said Ashok Chauhan.
The Rajput Vikas Samiti was formed over two decades ago.
IANS