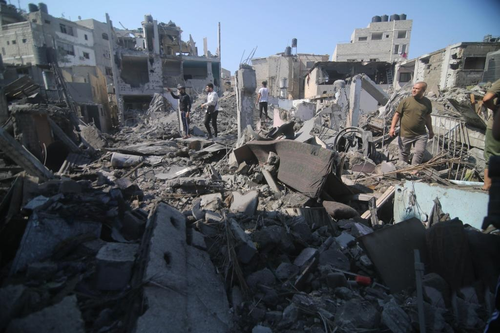 Jerusalem: Israel's Energy Minister Israel Katz on Thursday said that there will be no supply of electricity, fuel or water for the Gaza Strip until the Hamas militant group frees hostages.
In a post on X, the Minister said: "No electrical switch will be turned on, no water hydrant will be opened and no fuel truck will enter (Gaza) until the Israeli abductees are returned home.
"Humanitarian for humanitarian. And no one will preach us morals."
According to Israeli authorities, the militant group has taken up 150 people as hostages in Gaza following its attack on October 7.
In retaliation to the unprecedented assault, Israeli Defence Minister Yoav Gallant on Monday had ordered a "complete siege" of Gaza, saying he would halt the supply of electricity, food, water and fuel.
The Gaza Strip's only power station stopped working on Wednesday due to fuel shortages.
As a result, every facility in the hamas-controlled enclave, including the hospitals, are relying on generators, which in turn need fresh supplies of fuel.
On Thursday, the International Committee of the Red Cross warned that the hospitals now risk turning into morgues as they lose power.
"The human misery caused by this escalation is abhorrent, and I implore the sides to reduce the suffering of civilians," the BBC quoted the ICRC's regional director for the Near and Middle East, Fabrizio Carboni, as saying.
"As Gaza loses power, hospitals lose power, putting newborns in incubators and elderly patients on oxygen at risk. Kidney dialysis stops, and X-rays can't be taken."
Gaza, one of the most densely populated places where some 2 million people live in an area of 140 square miles, has been almost completely cut off from the rest of the world for nearly 17 years, when Hamas seized control.
This prompted Israel and Egypt to impose a strict siege on the territory, which is ongoing.
Israel also maintains an air and naval blockade on Gaza.
More than half of the enclave's population lives in poverty and is food insecure, with nearly 80 per cent relying on humanitarian assistance.
IANS