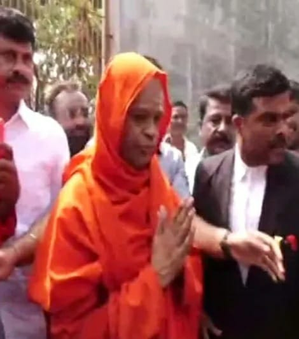 Bengaluru: In a big relief to rape accused Lingayat seer Shivamurthy Murugha Sharanaru of the historical Jagadguru Murugha Rajendra Bruhanmath of Chitradurga, the Karnataka High Court on Tuesday, issued a stay order on the investigation of cases against him.
The bench, headed by Justice M. Nagaprasanna, issued a stay order for the cases before the Second Additional District and Sessions Court of Chitradurga against the accused seer.
Senior counsel C.V. Nagesh, who argued for the accused seer, submitted to the court that the process of investigating the witnesses should be transferred to another court due to prejudiced actions against the accused seer by the local court. Counsel Nagesh further argued that after the High Court granted bail, the local court did not issue immediate release orders.
There was also a delay in issuing release orders, resulting in the accused seer remaining in prison for three days.
Despite directions not to proceed with the investigation, the probe is still being conducted.
Despite a stay order restricting the entry of the accused seer to Chitradurga, an arrest warrant was issued.
The decision to arrest him was made to undermine the High Court orders in this regard, he maintained.
The seer, released on bail after 14 months of incarceration on November 16, was again arrested in the second POCSO case on November 20 from Davanagere.
However, within hours, the High Court ordered his immediate release on legal grounds.
Justice Suraj Govindaraj had stayed the non-bailable warrant issued by the lower court after looking into an urgent petition in this regard on Monday evening.
Taking objection to the move of the lower court, the bench stated that the order of the High Court should not be misinterpreted just because it is a sensational case.
"The matter needs intervention at the hands of the High Court as the facts and the manner in which the orders have been passed by the Chitradurga court would indicate that gross injustice has been caused to the petitioner in violation of the order passed by the High Court, and the same depicts a very weird situation," observed Justice Suraj Govindaraj.
The accused seer was arrested after a high drama on September 1, 2022.
He is facing charges under the POCSO Act, IPC sections, Juvenile Justice Act, Religious Institutions (Prevention of Misuse) Act etc.
IANS