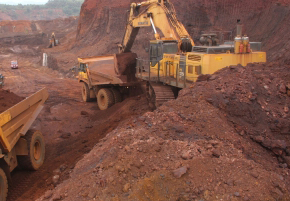 By Naz Asghar
New Delhi: China has cut down its imports of low-grade iron ore from India because of some issues related to the quality of the product, claims a report in Global Times.
India was earlier a major iron ore supplier for China, but the proportion of China's imports from India has gradually dropped since 2012, and it has remained under 5 percent in recent years, says the report.
China imported mainly low-grade iron ore or iron ore pellets from India, "but due to the unstable quality of low-grade ore and the high content of some microelements, many steel mills are not willing to use the imported products, " the report quoting experts said.
It noted a report in India media according to which, India has cut down the tariff hikes on exports of low-grade iron ore and other related products, a move taken to ease domestic oversupply.
These steps are aimed at boosting exports as India's domestic demand for iron ore went down recently, Wang Guoqing, research director at Beijing Lange Steel Information Research Center, told the Global Times. a Chinese mouthpiece.
He, however, said that India's cut or hike in export duties will have only limited impact on Chinese importers, as China's top three iron ore suppliers – Australia, Brazil and South Africa – have remained unchanged.
"India dropped to the fifth-largest iron ore supplier for China, with shipments of 9.89 million tons from January to September, dropping nearly 70 percent year-on-year," the report said citing data from Lange.
—-INDIA NEWS STREAM