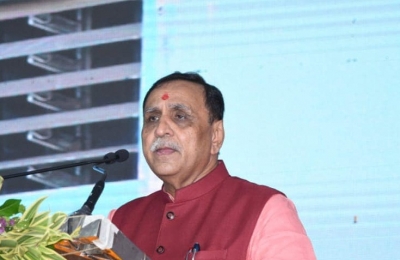 Ahmedabad: The Gujarat unit of Aam Aadmi Party (AAP) on Thursday demanded formation of a Special Investigation Team (SIT) to conduct a comprehensive investigation into the alleged acquisition of land worth Rs 10,000 crore by former Chief Minister Vijay Rupani.
AAP members Mahendrabhai Navadiya and Ketanbhai Patel submitted an application through the Collector's office in Surat earlier in the day.
Karan Barot, AAP's spokesperson for Gujarat told IANS "Aam Aadmi Party in Gujarat has given an application to collectors in Ahmedabad, Surat, Junagadh and Rajkot to form a Special Investigation Team (SIT) to conduct a thorough investigation into the acquisition of land worth a,10,000 crore by the former Chief Minister Rupani. If our appeal is not addressed then we will have to decide the next course of action."
The members alleged that irregularities were committed by the former Vijay Rupani government, into a land scam worth Rs 10,000 crore in Mulasana village of Kalol taluka in Gandhinagar. This month, Gandhinagar Police also registered a criminal case against a retired IAS officer S.K. Langa of the Gujarat cadre for indulging in criminal misconduct as a public servant while causing loss of crores of rupees to the state exchequer during his tenure as the Gandhinagar collector.
Earlier on Wednesday, Vijay Rupani denied the allegations. Similar allegations were also made against Rupani by Gujarat Congress. He said, "It is we who have initiated the inquiry. Our governments have acted against IAS officers who have done wrong and this Langa case is one of them."
IANS