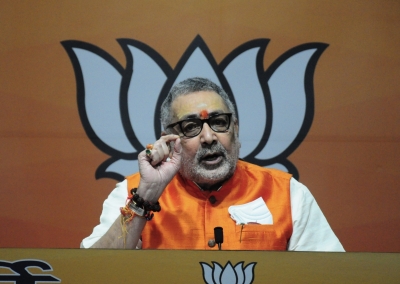 Patna : Hours after Bihar became the first state in the country to release data from a caste-based survey, senior BJP leader and Union minister Giriraj Singh on Monday put question mark over the report, terming it as "false".
"The caste-based survey is just an eyewash. There are thousands of castes in Bihar, but the Nitish Kumar government has released data based only on few of them. The report published today is false," Singh said while interacting with mediapersons in Begusarai.
"The Bihar government should have released data on the number of jobs it has given to the people of the state rather than releasing the caste-based survey report. It would have more meaningful had the state government released data on how many poor people have got employed, or how many poor people have become rich. Instead, the state government is cheating the people by releasing data based on only a few castes," Singh said.
"Lalu Prasad represents Yadavs (14 per cent), while Nitish Kumar represents Kurmis (2.8 per cent) and they have ruled the state for more than 33 years. I want to ask them what did they for the poor people of the state?
"They are trying to create confusion among the poor through this caste-based census. At a time when people are going to the moon, they are only counting the number of castes. Lalu (Prasad) and Nitish (Kumar) are hiding their failure of 33 years through such reports," said Singh, who is the Union Minister for Rural Development and Panchayati Raj .
The data released by the Bihar government on Monday lists 215 castes with maximum representation from Yadav caste at 14 per cent. As per the report, Bihar has a population of over 13.1 crore, in which 36 per cent are Extremely Backward Caste (EBC), followed by Other Backward Cast (OBC) at 27 per cent, Scheduled Caste at 19 per cent, and Scheduled Tribe at 1.68 per cent.
The report said that 81.9 per cent of the population belong to the Hindu community, followed by Muslims (17.7 per cent), Christians (0.05 per cent), Buddhists (0.08 per cent), Sikhs (0.01 per cent), Jains (0.0096 per cent) while other religions form 0.12 per cent of the population.
IANS