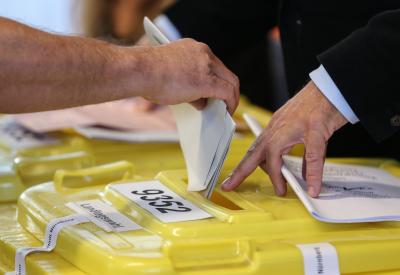 Berlin: Germany's conservative parties Christian Democratic Union (CDU) and Christian Social Union (CSU) won the key regional election in Hesse and Bavaria states, dealing a heavy blow to Chancellor Olaf Scholz' left-wing-led national coalition
Official figures have revealed that the CDU has taken over 34.6 per cent of the votes in the state of Hesse, while the CSU won 36.7 per cent in Bavaria, reports Xinhua news agency.
The CSU have led the regional government almost continually since 1946.
This has however, been the party's worst result since 1958.
The central-right sister parties gained first place in the two wealthy German states' election.
In addition, the right-wing Alternative for Germany (AfD) party made huge gains due to voters' dissatisfaction with the current federal government run by the coalition comprising the Social Democrats (SPD), Green Party and Free Democratic Party.
The Greens slipped slightly to 15 per cent, while the SPD is down to a catastrophic per cent.
With a predicted 2.8 per cent the FDP will not even get into Parliament.
The three parties have suffered losses in the two states compared to the last state elections in 2018.
A quarter of voters were eligible to cast their votes in the regional elections on Sunday.
IANS