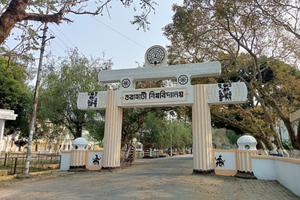 Guwahati: The Gauhati University will allow female students to take menstrual leaves and also grant relaxation in their attendance to appear for exams, officials said on Saturday.
Recognizing the importance of menstrual health to women's overall health, the institution has relaxed the minimum class attendance requirement for female students by 2 per cent.
This decision, which comes into immediate effect, is in line with guidelines that the Union Ministries of Women and Child Development and Education released earlier this year.
The new policy grants female students a menstrual leave provision, which relaxes the minimum class attendance requirement by 2 per cent so they can take exams at the conclusion of the semester.
Female students must maintain a minimum of 73 per cent attendance in order to be eligible for exams, the official notification mentioned.
A senior official said that the Gauhati University's move is in line with a wider view of menstrual health as a crucial component of general well-being, influencing a range of aspects of life, including mobility, employment, education access, dignity, and freedom.
Through this progressive policy, the university hopes to address and acknowledge the particular difficulties faced by female students throughout their period.
A premier institution in northeast India, Gauhati University was founded in 1948 and is well-known for its programs and academic distinction. IANS