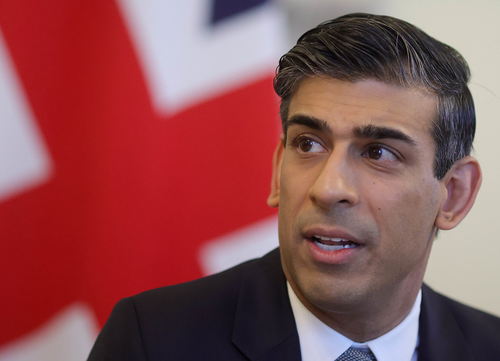 London: Ahead of Rishi Sunak's first official trip to India as Britain's Prime Minister during the G20 summit this week, his relatives are planning a banquet in New Delhi to welcome the Indian-origin leader to his ancestral land.
The Telegraph reported that the Sunak's relatives will host a feast with flower bouquets and "non-stop dancing" to Punjabi music in New Delhi on Thursday or Friday.
Sunak's maternal uncle, Gautam Dev Sood, said all relatives have been asked to gather in New Delhi to mark the arrival of the Prime Minister, who is likely to be accompanied by his wife Akshata Murthy on the three-day trip.
The menu will feature a mixture of North and South Indian cuisines, with "flower bouquets and beverages for the dinner as well", Sood told The Telegraph, adding that it is a "great honour for us that he is visiting his ancestral land".
"We can't divulge exact details but a plan is in place to welcome the Prime Minister. We are gearing up for a night of non-stop dancing, mostly to the lively-beats of the traditional Punjabi music, although I imagine we might also groove to a few English tunes along the way," said Subhash Berry, Sunak's paternal uncle.
However, Sunak is not planning to attend the event, pencilled for Thursday or Friday night, because of an intense schedule of meetings with world leaders between Friday and Sunday, the newspaper reported.
Born to Indian parents in Southampton with roots in Punjab, the 42-year-old is the first Indian-origin person to assume the office of the Prime Minister in the UK.
The British Indian leader has described India as an "indispensable partner" of the UK across all spheres of bilateral cooperation, which he is keen to bolster further.
On Tuesday, he ruled out a 'quick-fix' trade deal with India, which is held up by disagreements over New Delhi's demands for greater migration rights for Indian people.
Multiple sources close to the negotiations told the Guardian that Sunak rejected the idea of an "early harvest" deal, which could have lowered tariffs on goods such as whiskey but would not have dealt with trickier subjects such as professional services.
The decision has scuppered any chance of an agreement being struck this week, before the Prime Minister meets his Indian counterpart, Narendra Modi, in the Indian capital this weekend.
Many now believe a deal is impossible before both countries hold elections in 2024, although some in government still believe it could be reached later this year.
IANS