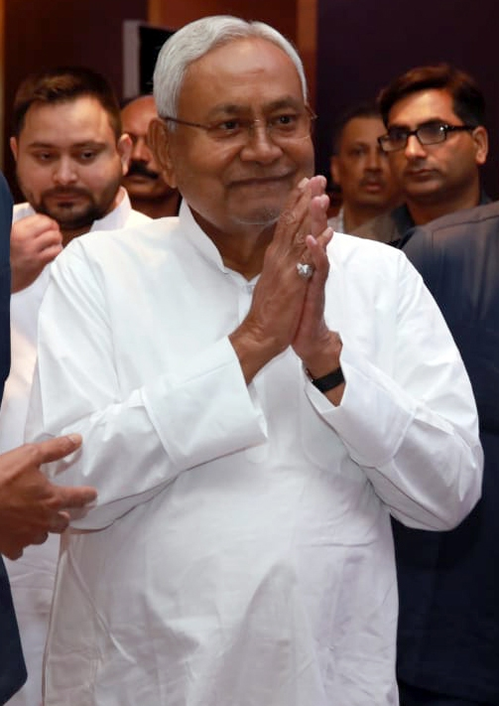 Patna: Bihar Chief Minister Nitish Kumar on Wednesday said the caste-based survey report will be tabled in both Houses of Bihar Vidhan Mandal.
"The caste-based survey was conducted in a good manner and every political party gave consent. We will put all the data on table in Bihar Assembly and council and discuss complete details. We will also give the copies of the survey to every MLA and MLC in the state," Kumar said while interacting with media persons in Patna.
Reacting on the allegation of BJP, Kumar said: "BJP has only one work to do and that is to raise objections. They can do whatever they want."
The report of the caste-based survey was released by the Bihar government on October 2. As per the report, Bihar has 13 crore, 7 lakh 25 thousand 310 population wherein Extremely Backward Caste (EBC) are 36 per cent, Other Backward Cast (OBC) are 27 per cent, Scheduled Caste 19 per cent, and Scheduled Tribes are 1.68 per cent,.
As far as major castes are concerned, the upper castes are 15.52 per cent, including Bhumihar are 2.86 per cent, Brahmins 3.66 per cent, Rajputs 3.45 per cent, and Kayastha are 0.60 per cent.
Besides, Kurmis are 2.87 per cent, Mushar are 3 per cent, Yadav are 14 per cent, Kushwaha 4.21 per cent, Chandravanshi 1.64 per cent, Dhanuk 2.13 per cent, Dhobi 0.83 per cent, Naayi 1.59 per cent, Nonia 1.91 per cent, Kumhar 1.40 per cent, Pasi (Paswan) 0.98 per cent, Badhai 1.45 per cent, Lohar 0.15 per cent, Sonar 0.68 per cent, halwai 0.60 per cent, Aghori 0.069 per cent, Adrakhi 0.02 per cent, Abdal 0.0087 per cent, Amat 0.21 per cent, Asur, 0.059 per cent, Awadh Bania 0.03 per cent, and Muslim Darji 0.25 per cent.
The report further said that Hindu community is 81.9 per cent, Muslim 17.7 per cent, Crishtian are 0.05 per cent, Sikh 0.01 per cent, Bodh 0.08 per cent, Jain 0.0096 per cent and other religions have 0.12 per cent population in Bihar.
Following that report, BJP and its alliance partners are putting question mark over the data and said that the Nitish Kumar government has not followed the transparent approach during the counting.
Leaders like Samrat Chaudhary, Giriraj Singh, Upendra Kushwaha, Sushil Kumar Modi, Vijay Sinha, Jitan Ram Manjhi and others are not satisfied with the survey. They have objections over the numbers of some of the castes which claim to be higher and some of them low. BJP has concern over Yadav caste numbers which is 14 per cent in Bihar while many other castes have lower numbers.
IANS