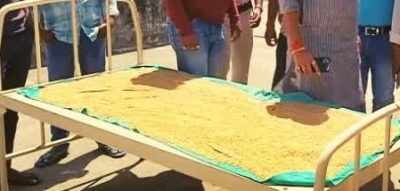 Patna: JDU MLA from Valmiki Nagar of Bihar's Pashchim Champaran district, Dhirendra Pratap Singh alias Rinku Singh, exposed the "mismanagement" at a Community Health Centre (CHC) in his constituency.
The MLA went to the CHC in Thakahara village on a surprise inspection and found that wheat is being dried on hospital bed. Further, the legislator found that the operation theatre at the CHC is being used as store room and the medicines were thrown in dustbins.
"It was absolutely shocking that hospital employees were using beds to dry wheat. Dirt and dust are piled up in the male and female wards. The medicines are thrown in the dustbins and an operation theatre is being used as a store room," Singh said.
"When we checked the roster of the hospital, several doctors and nurses were found absent… There was a complete mismanagement in the CHC, which is not tolerable. I will meet the district magistrate and civil surgeon, and will complain about it," he said.
IANS