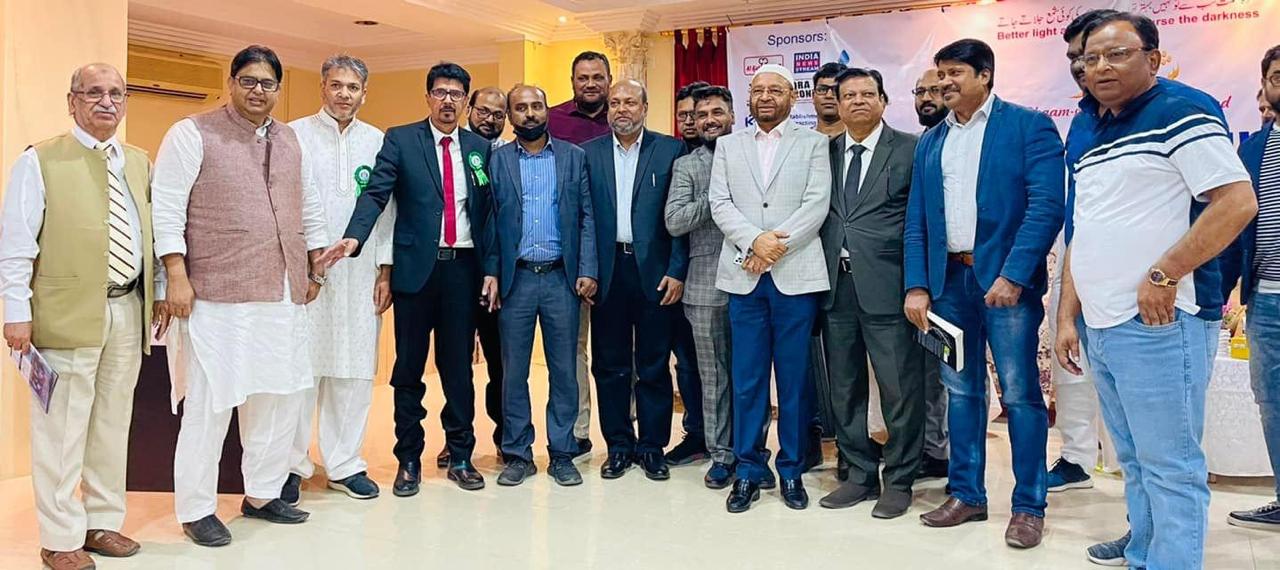 RIYADH: The fundraising event of the Bihar Anjuman (BA), which brought together more than 400 guests, including donors competing for spiritual rewards and recognition, took place in the Saudi capital city recently. A non-profit organization Bihar Anjuman, which has a full-fledged chapter in Riyadh, is one of the India's largest social organizations operating in Saudi Arabia with a mandate to build educational infrastructure and help poor students in Bihar and Jharkhand.
With hundreds of civic and Indian community members, including women and children mainly from north India, Bihar Anjuman's high-profile event featured top-notch guests, a look back at 23 years of its social service, along with a peek at what's next for this growing organization. A prominent businessman Rashid Ali Sheikh was the chief guest on this occasion, while businessmen Salahuddin Manzari and Mohammad Amanullah were the guests of honor.
Their flagship program entitled 'Better light a candle than curse darkness' supports parentless or poor students from financially weaker backgrounds. "Our primary mission is to make a difference by providing quality education to underprivileged children through volunteering," said Mohammad Shahin, president of the BA Riyadh chapter.
The move by the BA to lend support to poor students of Bihar and Jharkhand is significant, keeping in view the fact that Bihar and Jharkhand have emerged as the poorest states in India, according to Niti Aayog's Multidimensional Poverty Index (MPI) released late last year. As per the index, 51.91 percent population of Bihar is poor, followed 42.16 percent in Jharkhand, and 37.79 percent in Uttar Pradesh. According to the report, India's national MPI measure uses the globally accepted and robust methodology developed by the Oxford Poverty and Human Development Initiative (OPHI) and the UN Development Programme (UNDP).
Speaking on this occasion, Shahin pointed out that the BA provides financial assistance to poor students who are not in a position to continue their education because of financial hardships. The BA's areas of assistance include building schools, paying admission fees for poor students, providing text books, tuition fees, examination fees, stationery items, uniforms, hostel fees, backpacks, and school supplies.
To this end, it is important to note that the BA has financially supported about 1129 students pursuing a diploma in engineering and paramedical courses. The BA has had the distinction to operate a few religious schools (madarsa) for girls and three one-teacher schools (OTSs) in different parts of that eastern Indian state. Plans are also afoot to open model schools besides 27 Rahbar Coaching Centers, which are currently operating in Bihar and Jharkhand.
In his keynote address, Engr Rashid Ali Shaikh called on the Muslim youths to do business and offered his support to guide the new generation to start business ventures. Shaikh also pledged to extend support to lend new business ideas to the young entrepreneurs and impart better training to equip the budding businessmen with all skills and expertise. He also commended the initiatives of the BA "to educate and train young students in a better environment with financial support."
At the very outset, BA President Shaheen welcomed all guests and explained the mission of Bihar Anjuman. He provided factual information with statistics about the operation of the Bihar Anjuman and how it worked to uplift the poor segment of society. Another BA office-bearer Abid Hussain also spoke on this occasion and gave brief accounts of the projects undertaken by the Bihar Anjuman and its future plans. He highlighted the major projects run by BA such as Rahbar Free Coaching Centers, One Teacher School, Sponsorship of Diploma Engineering, Blanket Distribution Program, Iftar Kits Distribution and other welfare initiatives.

He also introduced a new plan for BA to start model schools for poor children in Bihar and Jharkhan. On this occasion, Hafiz Imteyaz Ahmad highlighted the importance of the holy month of Ramadan. A "Watch and Win" program, in which members of the audience were given prizes, was conducted by Dr Abdul Farah. On the sidelines of the event, a major book entitled "Muslim FactBook" authored by Seraj Akram was also released.
Speaking on this occasion, Akram explained the causes of the pathetic conditions of Muslims and spoke about the widening gaps in terms of achievements between Muslim and other religious groups, while calling on Muslims to exert more efforts in every sector. This book is available online on Amazon, Flipkart, Apple, and other book-selling platforms.

In his speech, Salahudeen Manzari underlined the need for commitment to the success of community initiatives. He called on the audience to explore opportunities and create networks for the betterment of the community. Dr. Abul Farah and Dr. Alimuddeen jointly conducted the program. Several prizes were also distributed among young boys and girls. First, second and third prizes for the online speech competition were given to Shaya Fahimi, Zaheera Iqbal, and Maryam Akhtar Siddiqui, respectively.
BA President Shahin also appreciated the roles of sponsors and active members of Bihar Anjuman, including Dr. Abul Farah, BA vice president, Seraj Akram, Abid Hussain, Sajid Hussain, Syed Amanullah, Dr. Alimuddeen, Firoz Ahmad, Afaq Akhtar, Nasir Tauqeer, Danish Shaikh, Mohammad Mateen, Zafar Imam, Farman Ahmad, Bholu Mallick, Imteyaz Manzari, and Shaikh Ossama.
He said that BA's special thanks goes to the sponsors and supporters of the program including Iqra Colony Patna, India News Stream, Knab Establishment for contracting, Al Kabeer, MESC, IAAK Est. For Industrial Fabrication, Digital Entity Company, Al Bilad Digital Printing Engr Ali Ahmad, Neyaz, Qais Azam, Akhtarul Islam, Aneesur Rahman, Feroz Alam, Dr. Zubair Khan, M Asrar, Shaikh Mohammad Aziz, and Manzar Khan.

The program concluded successfully with a vote of thanks given by Imteyaz Manzari. Chatkare Restaurant were the catering partner of the event.The program started withthe recitation of the Holy Quran by  Abdullah.
–INDIA NEWS STREAM