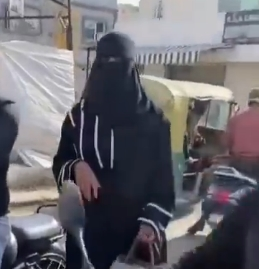 Bengaluru: The courage of a burqa-clad young woman, who bravely faced moral policing in Bengaluru and challenged the act, has received widespread appreciation.
The incident of a youth obstructing the young woman clad in burqa on a bike with a Hindu man in Bengaluru took place on Saturday. The youth had created ruckus, abused the woman and even asked her to take off her burqa.
The youth, identified as Jakir Ahamad, has been arrested and sent to judicial custody.
A video later went viral on social media, which shows the woman challenging the accused.
She asks,"Who are you to question me?"
When Ahamad starts troubling her by saying that she was bringing disgrace to the religion, the woman shouts back and questions "Bolne wala tum kaun Who are you to say this?)"
The accused then questions her why she was going with a Hindu, and the young woman replies that, "hamari marji (It's my choice)".
As people try to group around her and she is forced to leave the place, but she keeps on arguing with him.
The accused also made videos of the incident using vulgar language against the woman and made them viral on social media.
East Cyber Economic and Narcotics (CEN) Police Station registered a case against the accused after activists tagged the viral video to the accounts of Bengaluru Police. The activists had also expressed their concern over such incidents taking place in Bengaluru.
Jakir Ahamad, a resident of Bangarapet in Kolar district, was arrested within 24 hours and sent him to judicial custody.
The police have booked him under section 66 and 66 (C) of the Information Technology Act 2000. The 21-year-old victim had lodged a complaint against the accused person.
The investigations have revealed that the accused young man is studying medicine in Russia and had come to his sisters' place during his two-month holiday. The courage of the young woman has been appreciated by one and all.
IANS