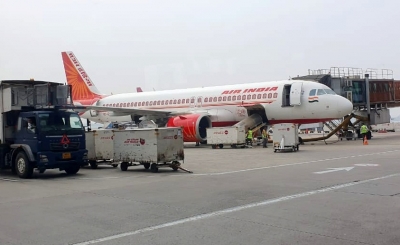 New Delhi: Air India has conducted a successful evacuation operation for its crew members and two airport managers from Tel Aviv on Sunday, a source said.
As per sources, among the evacuees were 10 crew members, comprising pilots and cabin crew, who were stationed in Israel for the purpose of operating the return flight.
It has been reported that they have embarked on a flight to Addis Ababa via Ethiopian Airlines and will subsequently continue their journey to India via a connecting flight.
Meanwhile, Air India has suspended its operations to and from Delhi-Tel Aviv till October 14, in response to the ongoing Hamas offensive that erupted on Saturday, resulting in the tragic loss of lives and leaving several people injured.
"Our flights to and from Tel Aviv will remain suspended till 14th October, 2023, for the safety of our passengers and crew. Air India will extend all possible support to passengers who have confirmed bookings on any flight during this period," said an Air India spokesperson.
Minister of State for External Affairs, V. Muraleedharan, on Sunday said that the Indians who are in Israel can contact the Indian embassy for any help.
Speaking to media persons here, he appealed to Indians in Israel to stay in safe shelters and to follow the advisory by the Ministry of External Affairs.
He said that only those in Israel knows the ground realities and that Indian embassy personnel in Israel are ready to help the Indians in that country.
IANS