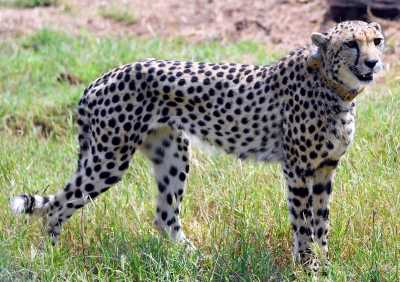 Bhopal: Five-year-old female Namibian cheetah 'Sasha', who reportedly died due to serious renal (kidney related) on Monday, her ailment was first detected in the last week of January, three month after she along with seven other big cats were released at Madhya Pradesh's Kuno National Park (KNP).
According to sources in the state Forest Department, Sasha was spotted lying lazily in her big enclosure on January 23, after which the three doctors team had shifted her for treatment at a quarantine 'Boma' (small enclosure).
Later, Sasha's blood sample was sent to Van Vihar National Park in Bhopal and a team of veterinary doctors established that she was suffering with kidney infection. Subsequent ultrasound examination of Sasha at KNP confirmed the blood test report findings.
Since then, veterinary doctors in coordination with their counterparts in Namibia and South Africa, were administering treatment to the female Cheetah and were monitoring her daily activities closely. "Around one-and-a-half month back when her health condition had improved marginally, the officials in Madhya Pradesh Forest Department, who were monitoring Sasha's movement regularly, had high hope that she will survive now," a source privy with the development told IANS on condition of anonymity.
Further, the KNP, in consultation with experts from Wildlife Institute of India (WII) Dehradun, made all efforts to secure the medical treatment history of Sasha from the Cheetah Conservation Foundation in Namibia. "In her treatment history, it was found that before being flown to India, the female Cheetah's last blood test on August 15, 2022, had revealed that the creatinine level was above 400, which was suggestive that the female Cheetah was suffering from renal infection before being trans-located to India," sources claimed.
Since January 22, Sasha had been under prolonged treatment of veterinary doctors posted at the KNP, a Namibian veterinary specialist, and senior veterinary expert Adrian Tordiffe of University Of Pretoria, South Africa.
On February 18, a team of veterinary experts from South Africa, who arrived at the KNP along with the 12 South African cheetahs, too had examined Sasha and reportedly expressed satisfaction with the medical measures being undertaken at the KNP to keep her relatively healthy despite being afflicted with severe chronic renal ailment.
The KNP now has 19 African cheetahs. Of them, 12, brought from South Africa on February 18, are in the quarantine Bomas. Out of remaining seven, which were flown from Namibia on Prime Minister Narendra Modi's birthday (September 17, 2022), four are now in the open jungles of the KNP and three are in big enclosures, awaiting for their turn to be released into the open jungles.
Of four cheetahs who are in open jungles, two (one male and a female) were released in the jungles on March 11, while two others (both male) were released on March 22.
IANS