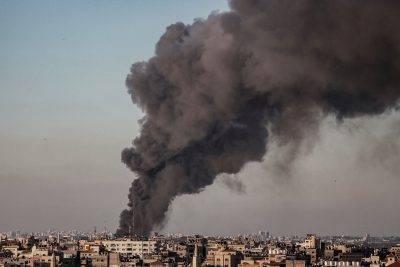 Representational Image
Kathmandu: At least seven Nepali students, who were working in an agriculture firm in Israel, have been injured in rocket attacks by Hamas while another 17 people have been held captive, Nepali Ambassador to Israel told media on Saturday.
The students were deployed to an agriculture farm in Alumim Kibbutz in southern Israel under the 'learn and earn programme'.
Nepal Ambassador to Israel Kanta Rizal said the building housing 17 students has been encircled by the militants who currently have hold of the area. Those injured seven students are also inside the captivity of the militant groups, she said.
"We have informed the Israeli Foreign Ministry and rescue team of the condition of the Nepalis. We have asked the students to remain alert and the embassy is in constant touch with them," she said.
She also said that it is difficult to rescue them because the rebels have taken over the area they are in.
"Those seventeen people are inside the housing of the agricultural farm. A group of armed people have surrounded the house where they are living," the Nepali ambassador told the Kantipur.
She said that they are also unable to leave their residence due to the curfew. – IANS