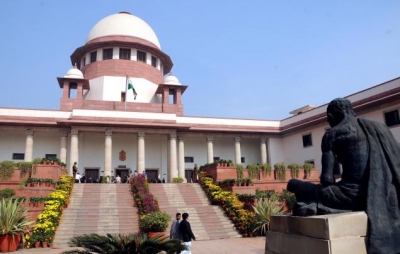 Ex-IPS officer Sanjiv Bhatt slapped with Rs 3 lakh by SC for alleging bias in drug case trial
New Delhi: The Supreme Court on Tuesday dismissed three petitions by sacked IPS officer Sanjeev Bhatt against a trial judge alleging unfairness in a trial related to a drugs planting case against him, and also imposed Rs 3 lakh fine on him.
The fine money will be deposited into the Gujarat High Court Advocates Welfare Fund, said a bench of Justices Vikram Nath and Rajesh Bindal.
Hearing the pleas, Justice Nath asked: "How many times have you been to the Supreme Court? At least a dozen times?"
Noting Justice B.R. Gavai (now retired) was kind to impose only a Rs 10,000 fine the last time, Justice Nath reminded Bhatt about a previous Supreme Court fine from February which rejected his challenge to a High Court order.
Bhatt has filed a petition to transfer the trial to the Court of the senior most Additional Sessions Judge at Banaskantha in Gujarat, alleging bias and unfairness against the current trial judge. Along with the transfer, Bhatt also sought audio-video recordings of the trial court proceedings and additional witnesses in the trial.
Representing Bhatt, senior advocate Devadatt Kamat requested the bench to omit or reduce the costs of the fine imposed. To this, Justice Nath replied: "He has been repeatedly approaching the Courts with the best of lawyers. Of course, he has no dearth of finances."
Bhatt is accused of lodging a false case to harass a lawyer due to a property dispute. The case dates back to 1996, when Basankantha police seized drugs from an advocate's hotel room in Rajasthan's Palanpur. At that time Bhatt was serving as the Superintendent of Police at Basankantha and he was arrested in the case in September 2018.
Bhatt is also currently serving life imprisonment since July 2019 after he was convicted in a 1990 custodial death case.
IANS