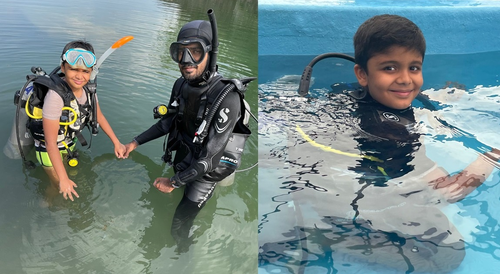 Mumbai:In a significant achievement, a city student has become the world's youngest PADI-certified Junior Open Water Diver, a day after his 10th birthday, his family members said on Friday.
The boy, Dwit A. Nandu, studying in Class 4 in St. Francis D'Assisi High School, celebrated his 10th birthday on Thursday (August 24) and the new laurel was proclaimed on Friday at Temple Adventures, Pondicherry, said his joyous father Dr. Amit Nandu, who is a professor of Accountancy in H.R. College of Commerce & Economics.
Scuba Diving is regulated by the Australia-based Professional Association of Dive Instructors (PADI), working in 186 countries, and it issues certification to divers which make them qualified to dive around the world.
The first level certification is called 'Junior Open Water Diver' (12 metres), followed by 'Open Water Diver', then 'Advanced Open Water Diver' (30 metres), 'Deep Diver' (40 metres), and then the professional 'tech-diver' categories for greater depths.
"As per PADI rules, the minimum age for a certified diver is 10 years. At 10 years one can begin the course and then get certified. Dwit's 10th Birthday was on 24 August. He had started preparing for the course well in advance and he completed it today, creating a world record," gushed Dr Nandu.
He explained that the rigorous course involved learning advanced swimming, ability to swim 200 meters without any aid or support, studying five modules, cracking a written exam based on them, finishing confined water training in a swimming pool and then completing four open water dives.
For the past one year, Dwit was immersed deep in the preparations for his global record, undergoing swimming coaching at a club in Borivali, then for the PADI-certified Temple Adventures diving centre in Pondicherry.
In a certificate issued by the instructor Riyas Jalal, the East Coast Watersports Pvt Ltd said: "Dwit has completed his Scuba Diver Course on his 10th birthday on 24 August, 2023, diving to the depth of 40 feet and finished his PADI Junior Open Water Diver Course on 25 August, 2023 around 0800 hrs. Thus, he attained the position of youngest Junior Open Water Diver in the world by completing the course at the age of 10 years and 18 hours."
Incidentally, scuba diving practically runs in the family for years with Dr. Nandu himself a Certified Deep Diver, his elder son Jinay, 21 — studying at IIT Bombay — is an Advanced Open Water Diver, and now Dwit has become a world record-holder Junior Open Water Diver (12 metres).
The divers' family is looked after by Charmi Nandu, a former banker turned housewife, who ensures her sons, Jinay and Dwit, are on their toes both — academically and in the diving arena.
IANS